Regional media trade blame for Jerusalem attack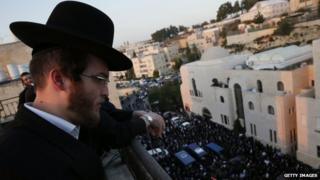 Arab and Israeli commentators differ starkly in their reactions to the attack on a synagogue in Jerusalem in which two Palestinians armed with guns and cleavers killed four Jewish worshippers and a policeman.
Israeli newspapers speak of a "massacre" and condemn what they see as the "religious incitement" that led to the violence.
Palestinian and Arab papers say that such attacks are a response by ordinary Palestinians to Israel's "crimes".
'Blood libels'
Israel's main papers are united in their horror at the attack, but commentators are split on whether Prime Minister Benjamin Netanyahu was right to accuse Palestinian President Mahmoud Abbas of inciting violence in a recent dispute over Jerusalem's holiest site, known to Muslims as the Noble Sanctuary and to Jews as the Temple Mount.
"The latest terror wave draws deep inspiration from the religious incitement around Temple Mount and the false blood libels pertaining to Israel's intention, as it were, to destroy the mosques there, or allow Jewish worship there. Many are partners to this incitement: from Abu Mazen [Mahmoud Abbas] to Hamas," writes Nadav Shragai in the pro-Netanyahu daily Yisrael Hayom.
That view is not shared by Nahum Barnea in centrist, mass-circulation Yediot Aharonot.
"Indeed Abu Mazen has delivered in recent weeks a few mendacious, demagogic speeches about Israel and the history of the Jewish people... But on the terror front, there is no-one cleaner than him, as stated yesterday by Shabak [internal security service] chief Yoram Cohen and as Israel Defense Forces commanders say," he writes.
An editorial in left-of-centre, independent broadsheet Ha'aretz says that the attacks by senior Israeli ministers on Mr Abbas are aimed at "deepening the rift with the Palestinians and torpedoing any possibility of a future [peace] agreement".
'Retaliation'
In the Palestinian territories, newspapers that support Mr Abbas' Fatah movement and those owned by the Palestinian Authority cover the news factually on their front pages or highlight condemnation of the attack.
"President denounces operation, calls for stopping the al-Aqsa mosque's storming and settlers' provocations," the pro-Fatah daily Al-Ayyam's headline says.
Gaza-based pro-Hamas Filastin newspaper by way of contrast carries a headline reading: "Hamas: We are standing at the doorstep of Jerusalem intifada."
Palestinian commentators blame Israel for the violence.
"The Occupation bears the responsibility because it is pushing toward kindling religious sentiments on both sides," writes Hafez al-Barghouthi in PA-owned newspaper Al-Hayat al-Jadidah.
Hani Habib writing in Al-Ayyam says the "Jerusalem operation" came in the context of "explosive and provocative conditions created by the Israeli occupation".
Munir Shafiq on the Filastin Online website writes: "The retaliation [to Israel's policies in Jerusalem] should be swift and in the form of the continuation of Jerusalem's intifada."
'Provocations'
The wider Arabic press also lays the blame for the violence squarely at Israel's door.
Jihad al-Khazin in pan-Arab Al-Hayat asserts that the assailants were civilians despite the military wing of the Popular Front for the Liberation of Palestine (PFLP) claiming responsibility.
"If they were fighters they would have carried machine guns, grenades and explosives. However, they were just civilians who could no longer bear the crimes by the occupation, so they decided to carry out an intifada against the Israeli terrorism," he says.
An editorial in Egypt's state-owned Al-Jumhuriyah says: "We condemn the attack on the synagogue in Jerusalem and any attack on religious sites. But we remind people that Israelis are the ones who came up with aggressions against holy sites and religious institutions and carried out more of these in recent months."
"Palestinians avenge Jerusalem with 'the axe' operation," privately-owned Egyptian daily Al-Tahrir says on its front page above a picture showing the "the distribution of sweets in Palestinian Rafah in an expression of joy".
Salih al-Qallab in Jordan's pro-government daily Al-Ra'y writes: "Because Israel has gone so far in its recurrent attacks and provocations against the Palestinian people, it is no surprise to see operations like the latest one."
BBC Monitoring reports and analyses news from TV, radio, web and print media around the world. You can follow BBC Monitoring on Twitter and Facebook.