Iran releases 'Blogfather' Hossein Derakhshan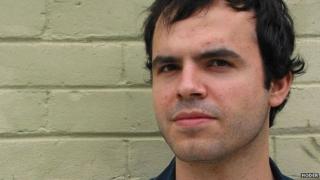 Iran's Supreme Leader has pardoned the pioneering Iranian-Canadian blogger Hossein Derakhshan after six years in prison, Iranian media report.
Mr Derakhshan was arrested in Tehran in 2008 on suspicion of spying for Israel.
Two years later, he was sentenced to 19 years in jail after being convicted of spreading propaganda, insulting Islam and co-operating with hostile powers.
He is credited with launching Iran's blogging revolution by publishing instructions on the subject in Farsi.
Nicknamed Iran's "Blogfather", Mr Derakhshan was originally a journalist in Tehran before he moved to Toronto in 2000 and began writing blogs critical of the Iranian government.
Using his Canadian passport he paid a highly-publicised visit to Israel - the Islamic Republic's arch-enemy - in 2006, saying he wanted to act as a bridge between the two countries.
Although his blogs had become less critical of Iran's government, Mr Derakhshan was detained within two weeks of his return from self-imposed exile in 2008.
He was subsequently convicted of "conspiring with hostile governments, spreading propaganda against the Islamic system, spreading propaganda in favour of counter-revolutionary groups, blasphemy, and creating and managing obscene websites".
No reason was given by the Iranian authorities for Mr Derakhshan's release, but local media reported and the blogger himself said he had been pardoned by the country's Supreme Leader, Ayatollah Ali Khamenei, on his return from a two-week temporary release.
Mr Derakhshan wrote on his Google+ page: "I'm free after six years. I thank God. I'm so grateful to Ayatollah Khamenei."