Israel: 'Hamas plot to kill FM Lieberman foiled'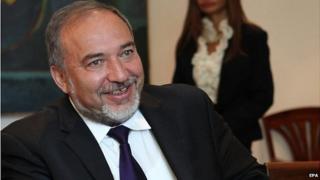 Four Palestinians have been arrested by Israeli security forces over an alleged plot to kill Israel's foreign minister with a rocket-propelled grenade (RPG).
Israel's Shin Bet security agency said the group planned to assassinate Avigdor Lieberman during the Israel-Gaza conflict of July and August.
It said the men belonged to Hamas, the group which runs Gaza. Hamas said it had "no information about this issue".
The summer war lasted 50 days and ended in a truce between the two sides.
The conflict cost the lives of more than 2,100 Palestinians - mainly civilians, according to the UN - and 67 soldiers and six civilians on the Israeli side.
According to Shin Bet, the cell planned to buy an RPG and fire it at Mr Lieberman's convoy near his home in the settlement of Nokdim in the occupied West Bank.
The agency said the group had the minister's convoy under surveillance. They are said to have timed and measured different sections of the convoy's journey to calculate the most effective point for the attack.
Shin Bet said three of the suspects - Ibrahim Salim Mahmoud al-Zir, Ziad Salim Mahmoud al-Zir and Adnan Amin Mahmoud Sabih - came from the West Bank village of Harmala, about 2.5km (1.5 miles) from Nokdim.
Ibrahim Salim Mahmoud al-Zir allegedly masterminded the plot and recruited his brother Ziad, Adnan Amin Mahmoud Sabih and another Hamas member Youssef Ibrahim Youssef al-Sheikh, from the Bethlehem area.
'Message to Israel'
The group were arrested two weeks ago, Shin Bet said.
According to the agency, the men had said they hoped that killing Mr Lieberman "would relay a message to the State of Israel that would bring about an end to the Gaza war".
The release of the information about the alleged plot comes at a time of heightened tension between Israel and Palestinians.
Palestinian militants killed five Israelis in an attack on a synagogue in Jerusalem on Tuesday - the latest in a spate of deadly attacks in the city by members of militant groups, including Hamas.
Tensions have also soared over a disputed major holy site, known to Jews as the Temple Mount and Muslims as al-Haram al-Sharif, and incidents including the killing by Israeli forces of an Israeli-Arab and a Palestinian in Hebron.