Nuclear talks: Iran says 'no new ideas' on table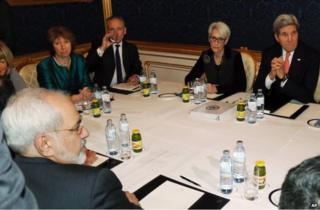 Iran's foreign minister has said he heard "no new ideas" as talks on Tehran's nuclear programme stretched into the evening in Vienna.
Mohammad Javad Zarif said he had received "no remarkable proposals to take to Tehran" after meeting US Secretary of State John Kerry for the third time in 24 hours.
Mr Kerry had cancelled plans to leave for Paris to fit in the latest talks.
The clock is ticking down to a Monday deadline for a deal.
Six world powers representing the UN - the US, the UK, France, Germany, Russia and China - want Iran to curb its nuclear programme in return for the lifting of UN sanctions.
They want Iran to demonstrate it is not seeking to build nuclear weapons, in the face of protestations by Tehran that its programme is purely energy-related.
---
Potential deal-breakers
Uranium enrichment: Western states want to reduce Iran's capacity in order to prevent it acquiring weapons-grade material but Tehran is set on expanding it nearly 20-fold in the coming years
Sanctions reduction: Iran wants sanctions lifted immediately but Western states want to stagger their removal to ensure Tehran abides by its commitments
Bomb technology: Iran has failed to explain explosives tests and other activity that could be linked to a nuclear weapons programme and has denied international nuclear inspectors access to its Parchin military site
---
Separately, the international nuclear watchdog, the International Atomic Energy Agency (IAEA), is calling on Iran to address its concerns about suspicious military activities that could be linked to a nuclear weapons programme.
Iran had promised to give the IAEA a response by late August to allegations concerning explosives tests and other activity but has failed to do so and has also denied access to a key military site, Parchin.
A senior Iranian official has told the BBC they are expecting to reach an outline of a deal by the deadline and then spend the following seven-to-10 days working on the implementation of it at the expert level.
Evening talks
Iranian media said earlier that Mr Kerry had made new proposals aimed at bridging their differences.
But Mr Zarif told reporters after an evening round of talks with Mr Kerry and EU envoy Catherine Ashton: "There have been a lot of discussions in the talks but there have been no new ideas or remarkable proposals to take to Tehran."
However, an unnamed source close to the talks later told Reuters news agency that Mr Zarif and Mr Kerry were working on "new compromise proposals", without elaborating.
After meeting the Iranian foreign minister, Mr Kerry had talks with French Foreign Minister Laurent Fabius.
The US secretary of state's departure for Paris had been announced earlier in the day, with the state department saying: "We have not yet determined when he will return to Vienna."
However, the US subsequently reported that the secretary of state would stay the night in Vienna to allow for further talks.
The aim is turn an interim accord reached with Tehran a year ago into a lasting agreement. Iran has been resisting efforts to scale back its nuclear programme for nearly a decade.
UK Foreign Secretary Philip Hammond called on Iran to show "flexibility". At the same time, he warned: "We have a long way to go if we are to get to a deal before the deadline."
The deal being sought by the world powers is not directly linked to the IAEA's investigation of Iran.
However, the US has said in the past that Iran must address the watchdog's concerns if it expects a comprehensive agreement in the talks.
IAEA chief Yukiya Amano said Iran had not "provided any explanations that enable the agency to clarify the outstanding practical measures".