Iraq troops battle Islamic State in Ramadi, Anbar province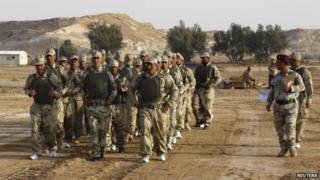 Iraq's army has launched an operation to retake parts of Ramadi, a city largely controlled by Islamic State.
Saturday's fighting has focused on eastern suburbs of Ramadi, the capital of Anbar province, located 130km (80 miles) west of the capital Baghdad.
Iraqi officials say that during the operation, soldiers found the bodies of Sunni tribesmen killed by Islamic State for opposing the group.
IS militants - also Sunnis - have seized large areas of Iraq and Syria.
The jihadists control almost all of Anbar, despite operations by the Iraqi army backed by air strikes from the US and its allies.
Some local Sunni tribes have joined the fight against IS. Earlier this month tribal elders said hundreds of members of the Al-Bu Nimr tribe - mostly from the town of Hit - had recently been killed by IS.
The latest killings reported in the Ramadi area targeted the Al-Bu Fahd tribe. An official told Reuters news agency that the bodies of 25 tribesmen had been found in areas recaptured by the army.
The recently formed and Shia-dominated Iraqi government is trying to win over Sunni tribes, which it sees as a key element in the fight against IS.
But Baghdad has not yet succeeded in persuading the bulk of the tribes to turn on IS.