Israeli policeman charged over Palestinian teen's death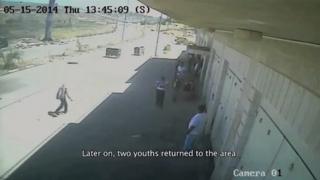 An Israeli border police officer has been charged with the manslaughter of a Palestinian teenager at a demonstration in the occupied West Bank in May.
Israeli prosecutors accused the officer of deliberately switching the rubber bullets in his rifle with live rounds, one of which killed Nadim Nuwara, 17.
A second Palestinian teenager was also killed, but no-one has been charged.
Prosecutors cited a lack of evidence because no post-mortem was carried out on 16-year-old Muhammad Abu Thahr.
The Israeli authorities initially denied that live rounds had been used to disperse the protest in the town of Beitouniya on 15 May, during which several dozen Palestinians threw stones towards Israeli troops.
However, Israeli human rights activists said a post-mortem subsequently found that Nuwara had been hit in the chest by a live round.
'Deliberate and premeditated'
An indictment filed on Monday by the Israeli justice ministry alleged that the officer, whose name has not been officially disclosed, had placed a live round in a magazine that was meant to hold only non-lethal blank rounds used to propel rubber bullets.
"He deliberately fired a live round at the centre of the deceased's body, while intending at the least to cause him serious injury with the foreseeable possibility of his death and while concealing his actions at the time," it added. "With these actions the accused caused, through a forbidden act, the death of the deceased."
The officer denies the charge and insists he only fired rubber bullets.
The prosecutors' decision not to bring a murder charge was criticised by the victim's family.
"All indications show the killing was deliberate and premeditated. It was not random fire," Siam Nuwara told Reuters news agency. "A manslaughter charge is unacceptable."
At the time, Palestinian leaders accused Israeli forces of the "execution" of the teenagers after CCTV footage of the protest was released by a human rights group.
Defence for Children International (DCI) said the footage proved Nuwara and Abu Thahr had posed no threat to the Israeli troops and been killed unlawfully. Under the Israeli military's rules of engagement, troops can use live ammunition only if they feel their lives are in danger.