Yemen raid: Rescuers missed Western hostages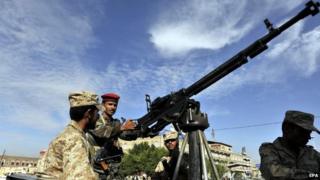 US and Yemeni troops who freed eight people held by al-Qaeda in eastern Yemen this week were also looking for Western hostages, it has emerged.
A Briton, an American and a South African were among five captives now believed to have been moved two days earlier, US and Yemeni officials said.
Six Yemenis, a Saudi and an Ethiopian were rescued in the operation.
There have been a series of conflicting reports about US involvement in the raid and the hostages' nationalities.
Initially, the Yemeni government said that its forces had rescued seven Yemenis and an American military instructor held by al-Qaeda in the Arabian Peninsula (AQAP), the local offshoot of the jihadist network. However, US officials swiftly denied that an American had been freed.
---
Analysis: Frank Gardner, BBC security correspondent
Hostage rescue attempts are notoriously risky and are usually undertaken only when there is thought to be a high probability of success. If reports of a US-Yemeni special operations forces rescue attempt are correct then once again the US-led rescue team had the right location but the wrong timing.
Just as with James Foley and other Western hostages held by Islamic State in Syria this summer, it seems that the Yemeni kidnappers moved their British, American and South African hostages just days before the raid went in.
The kidnappers, thought to be from AQAP, will now most likely split the remaining hostages up and strengthen their guard on them, possibly moving them once again, to thwart any further rescue attempts. There is rarely a second chance in these scenarios.
---
The New York Times subsequently revealed that about two dozen US special forces commandos had led the raid on a mountain cave in the remote Hajr al-Sayar district of Hadramawt province.
At the request of the US government, the newspaper did not report that the troops had believed the British, American and South African hostages were being held there, out of concern that the publicity might jeopardise their safety and future rescue attempts.
But late on Wednesday, a website connected to Yemen's defence ministry, 26sep.net, published an interview with a member of the Yemeni counter-terrorism forces who took part in the rescue.
"Intelligence information had become available that al-Qaeda was holding 11 hostages who had been seen being transported in a... vehicle covered in blankets," the soldier, identified as Abu Maarouf, told the website.
About 30 commandos were flown to an area about 7km (4 miles) from the cave in the early hours of Tuesday, he said. They then divided into four groups, one of which stormed the entrance of the cave and killed all seven of the kidnappers.
"We found the eight hostages chained. We found al-Qaeda mobile phones and documents," the soldier added.
One of the hostages then told them that five of their companions had been moved to an unknown location two days earlier.
The soldier said they comprised an American, a Briton, one South African, a Yemeni, and a fifth believed to be Turkish.