Israel 'foils Hamas cell planning Jerusalem attacks'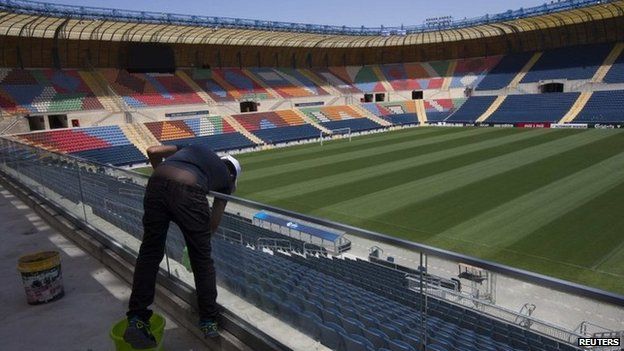 Israel's internal security service says it has uncovered a Hamas cell in the West Bank that was planning to carry out a series of attacks in Jerusalem.
Shin Bet said it had arrested more than 30 militants who were trained abroad, and recovered weapons and explosives.
They planned to kidnap Israelis and their targets for attack included a football stadium in Jerusalem and the city's light rail system, it alleged.
The arrests come at a time of rising Israeli-Palestinians tension.
Over the past month, 11 Israelis have been killed by Palestinians, including four rabbis and a policeman who were stabbed and shot at a synagogue in Jerusalem last week. Twelve Palestinians have also been killed, including several of those who carried out the attacks.
Shin Bet said the militants whose arrests were revealed on Thursday had plotted to attack Jerusalem's Teddy Stadium and a tram, as well as carry out car bombings and kidnap Israelis in the West Bank and oversees.
The suspects - who include a number of Palestinians from the West Bank, two Jordanians and a Kuwaiti - had received orders from Hamas officials based in Turkey, it added.
The agency alleged that the cell was responsible for two bomb blasts in the northern West Bank on 31 August which caused no casualties. One bomb was rigged to explode shortly after the other in order to target emergency services personnel sent to the scene, it said.
Shin Bet said some members of the cell had been recruited in Jordan in 2012 and that they had received some military training in Turkey, Syria and the Gaza Strip before being sent to the West Bank at the start of 2014 to set up infrastructure and gather intelligence.
The BBC's Kevin Connolly in Jerusalem says it is not clear how close their plans were to being realised, but their scale is certainly substantial.
Israel's Prime Minister, Benjamin Netanyahu, congratulated Shin Bet for preventing the attacks, saying they would have caused many casualties.
"This is one operation that has been published but there are many more that remain secret," he added. "These foiling activities are against terrorists and against Hamas, which challenges the existence of a Jewish nation-state and the existence of Jews in general."
Hamas, which dominates Gaza and backs the Palestinian Authority's national unity government in place since June, has so far not commented.
A 50-day conflict between Israel and Palestinian militants in Gaza led by Hamas in the summer claimed more than 2,000 lives.