Islamic State: Syria says air strikes not hurting group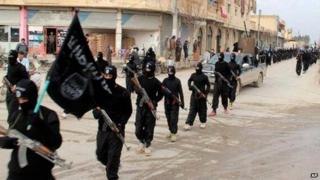 Two months of US-led air strikes have failed to weaken Islamic State (IS) militants, Syrian Foreign Minister Walid al-Moualem has said.
A US-led coalition has carried out nearly 300 air strikes in Syria since September.
Mr Moualem told Lebanese TV the only way to tackle IS was to force Turkey to tighten border controls to stop foreign fighters crossing into Syria.
IS controls large swathes of both Syria and neighbouring Iraq.
The BBC's Jim Muir says the air strikes have been widely credited with helping to halt the advance of IS fighters on the border town of Kobane in northern Syria.
Losing ground
"All the indications say that [IS] today, after two months of coalition air strikes, is not weaker," Mr Moulame told al-Mayadeen TV on Friday.
"If the [UN] Security Council and Washington do not force Turkey to control its borders then all of this action will not eliminate IS," he added.
Mr Moualem also said Turkey's plan for a no-fly zone over northern Syria would mean the de facto partition of Syria.
Turkey has a 900km (560-mile) border with Syria.
Ankara has repeatedly denied backing militant Islamist groups - inadvertently or otherwise - to help Syrian rebels oust Syrian President Bashar al-Assad.
Meanwhile, the Syrian government has been escalating its own use of air power.
It has carried out more than 2,000 air strikes in less than six weeks in many parts of the country against rebels, including IS.
Many of the attacks have been directed at Raqqa, the city in north-east Syria that has become the militant group's headquarters.
A Syrian monitoring group says that more than 500 people have been killed in the raids, many of them civilians.