Iraq government reaches deal with Kurds on oil exports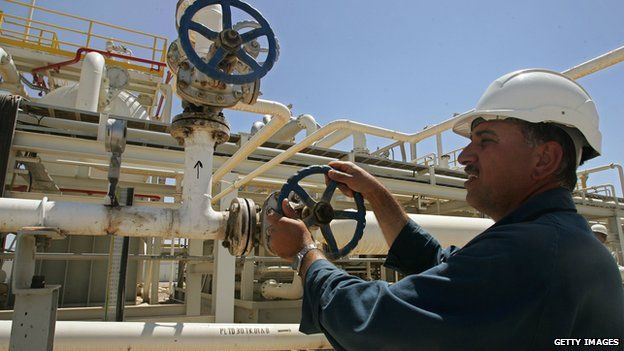 Iraq's central government and the semi-autonomous Kurdistan Region in the north have reached an agreement that resolves a long-running dispute over oil exports and budget payments.
Finance Minister Hoshyar Zebari said 550,000 barrels per day of oil would be sent to the Iraqi oil ministry.
In return, the Kurds will receive their 17% share of the national budget.
They had threatened to boycott Prime Minister Haider al-Abadi's new unity government over the dispute.
Mr Abadi's administration was formed with the backing of Iraq's various ethnic, religious and political factions in September to deal with the crisis caused by the seizure by Islamic State (IS) militants of large parts of the country's north and west.
For more than a year, the government in Baghdad has withheld budget payments to the Kurdistan Regional Government (KRG) in retaliation for its efforts to export oil unilaterally to Turkey.
The KRG said it needed the money to meet its growing security needs, pay public sector employees and fund infrastructure projects.
Tuesday's agreement stipulates that the KRG will export 250,000 barrels per day (bpd) of oil from its fields around the city of Irbil through its pipeline to Turkey, where it will be handed over to the Iraqi national State Organisation for Marketing of Oil (SOMO).
A further 300,000 bpd will also be exported from oil fields surrounding the disputed city of Kirkuk, which Kurdish Peshmerga forces have controlled since the Iraqi army withdrew in June.
In exchange, the Kurds will receive their 17% share of the national budget, which in 2013 was worth about $12bn (£7.6bn), plus an additional $1bn in instalments to help pay the salaries of and equip Peshmerga fighting IS militants alongside the Iraqi army.
"This deal is a win-win for both sides," Mr Zebari, a Kurd, told the Associated Press.
"The [Kurdish government] needed more stability in its relations with Baghdad and the Iraqi [central] government is going through very serious financial difficulties because of the drop in oil prices, and because of... spending that has been taking place, so really we are struggling to increase oil production."
After Mr Abadi came to power, the Kurds gave him three months to resolve the dispute. In November, they agreed to sell 150,000 bpd to the central government in return for a one-off payment of $500m.