Why would Iran bomb Islamic State in Iraq?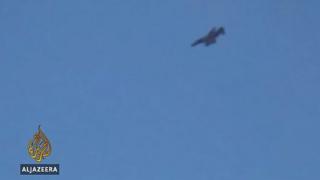 The US says Iran's air force has attacked jihadist militants from Islamic State (IS) in eastern Iraq. Despite footage emerging that appears to show an Iranian fighter jet conducting an air strike, Tehran has officially neither confirmed nor denied the claim.
What threat does IS pose to Iran?
Iran, a Shia powerhouse, has seen IS seize several towns not far from its border with Iraq since June and threaten to destroy revered Shia shrines.
The Sunni jihadist group regards Shia Muslims as heretics who should be killed.
Iran's Supreme Leader, Ayatollah Ali Khamenei, has said his country will not hesitate to defend Iraq's Shia-led government and Shia holy sites if necessary.
Although it is not part of the US-led coalition carrying out air strikes in Iraq and Syria, Iran shares the desire to destroy IS and has the capability to act.
---
Is Iran already fighting in Iraq?
Iran's power and influence in Iraq have grown steadily since the withdrawal of US forces in 2011.
It played a key role in countering the initial IS advance last summer, particularly around Baghdad. Revolutionary Guards were swiftly deployed to advise Iraqi security forces and Kurdish Peshmerga fighters, and Iranian-backed Shia militiamen were mobilised.
Tehran has denied sending ground troops, but members of the Revolutionary Guards and its elite overseas operation arm, the Quds Force, are widely believed to be involved in combat operations.
Tehran is also believed to have provided the Iraq air force with several SU-24 fighter jets - which analysts say are likely being flown by Iranian pilots - and to have directed surveillance drones over Iraq.
There had also been reports of Iranian warplanes attacking IS positions in Iraq before Al-Jazeera filmed a jet over Diyala province on 24 November, which was identified by analysts as an Iranian F-4 Phantom.
---
Has Iran got the capacity to launch air strikes?
The Islamic Republic of Iran Air Force (IRIAF) has an aging fleet of US-made warplanes, including F-4 Phantoms, F-5 Tigers and F-14 Tomcats.
They were purchased before the 1979 Islamic Revolution, a year after which relations between Tehran and Washington were severed. Experts say they have been kept in operation with parts that have been smuggled and cannibalised from civilian aircraft, or reverse engineered.
The IRIAF also has Russian-made MiG-29 and SU-24, Chinese-made F-7, and French-made Mirage F1 jets, and has developed its own aircraft based on the F-5 called the Saeqeh (Thunder).
---
Why would Iran not admit to the strikes?
Tensions between Iran and the US may have eased in the past year, but that does not mean they want to publicise any collaboration.
The deputy chief-of-staff of Iran's armed forces, Brig-Gen Massoud Jazayeri, rejected talk of co-operation, choosing instead to blame the US for being the "root cause of unrest and problems" in Iraq.
Pentagon spokesman Rear Adm John Kirby meanwhile stressed that "nothing had changed about our policy of not co-ordinating military activity".
Iran also stands on the opposite side of much of the international community over Syria, complicating efforts to combat IS there.
---
To what extent is Iran working with the US?
The long-time enemies have co-operated in the past, notably over efforts to combat al-Qaeda in Afghanistan after the 9/11 attacks.
The US has not invited Iran to join the coalition against IS - something Iran says it would refuse to do - but talks have taken place on the margins of the negotiations on Iran's nuclear programme.
In Iraq, the co-ordination on the battlefield is clear, even though the US insists the Iraqi security forces are responsible for it.
US air strikes have allowed Shia militiamen accompanied by Iranian advisers to retake key areas.
The head of Iran's Quds Force, Gen Qasem Soleimani, is said to have led the operations to relieve Amerli in August and recapture Jurf al-Sakher in October, both of which benefitted from coalition air power.
Iran and the US also combined to force former Iraqi Prime Minister Nouri Maliki to step aside in favour of a consensus candidate in September.