Iraq denies woman detained in Lebanon is IS leader's wife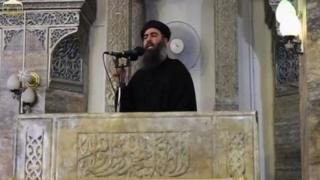 Iraq says a woman detained in Lebanon is not the wife of the Islamic State (IS) leader Abu Bakr al-Baghdadi.
Lebanese officials said on Tuesday that the army had picked up a woman named Saja al-Dulaimi after she tried to enter from Syria with forged papers.
But the Iraqi interior ministry said on Wednesday that while Ms Dulaimi was from a family of known militants, she was not married to Baghdadi.
Unofficially, the Lebanese army says it still thinks it is holding his wife.
A source told the BBC it believed the woman was a current or former spouse of the IS leader.
The Iraqi interior ministry said Baghdadi's wives were believed to be named Asma Fawzi Mohammed al-Dulaimi and Isra Mahal al-Qaisi.
A woman called Saja al-Dulaimi was detained by the Syrian authorities before being freed in March as part of a prisoner exchange with al-Qaeda's local affiliate, the al-Nusra Front.
The exchange saw al-Nusra hand over a group of abducted Greek Orthodox nuns in return for the release of 150 women held by Syria.
Saja al-Dulaimi's father is an active member of al-Nusra, according to the Iraqi interior ministry.
Its statement said her sister was Duaa Abdul Hamid al-Dulaimi, who was being detained for "attempting to blow herself up" in Irbil.
Her brother, Omar Abdul Hamid al-Dulaimi, had been sentenced to death for his part in bombings in Basra and al-Bathaa, it added.