Yemen bombing targeting Iranian ambassador kills two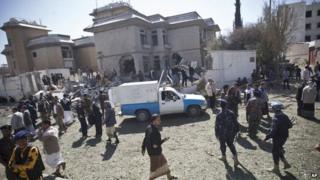 At least two people have been killed in a car bomb attack on the Iranian ambassador's residence in Yemen's capital, Sanaa, officials say.
The ambassador, Hossein Niknam, was not at home when the bomb exploded, blowing a large hole in a wall and sending rubble flying across the street.
The dead included the son of a security guard at the residence. Another 17 people were injured by the blast.
Al-Qaeda in the Arabian Peninsula (AQAP) said it was behind the attack.
The local offshoot of the global jihadist network claimed its members had been able to breach "strict security measures" in the well-guarded diplomatic quarter and leave the car bomb outside the residence before it exploded, killing several Iranians.
But Iran's Deputy Foreign Minister, Hossein Amir Abdollahian, told the Tasnim news agency that no Iranian diplomats were harmed, adding: "Only material damage was inflicted."
One report said Mr Niknam, who is new to the post and only presented his credentials to Yemen's foreign ministry last week, had left his home only 10 minutes before the bombing.
This is not the first attack targeting Iranian diplomats in Yemen.
In January, Ali Asghar Assadi was shot resisting a kidnap attempt as he was leaving the ambassador's residence. He died of his wounds.
Iran supports the Zaidi Shia rebels known as Houthis who overran Sanaa in September, forcing the president to reverse unpopular fuel subsidy cuts and appoint a new unity government, and have since expanded the territory under their control.
AQAP has vowed to confront the rebels in defence of Yemen's Sunnis.
In October, the group claimed responsibility for a suicide bomb attack on a rally by Houthi supporters in Sanaa that killed 47 people.