Iraq car bomb attacks in Kirkuk and Baghdad kill 35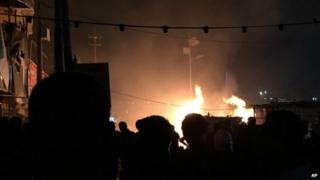 At least 35 people have been killed in a series of car bomb attacks in the Iraqi capital Baghdad and the northern city of Kirkuk.
In Kirkuk, at least 16 people died in a blast outside a cafe on a busy street in a Kurdish neighbourhood.
There was also a spate of bombings targeting restaurants and markets in Shia areas of Baghdad.
Baghdad has seen frequent attacks but there have been fewer in Kirkuk, which is in the hands of Kurdish peshmerga.
No-one has yet said they carried out the attacks, but many in the past have been carried out by extremist Sunni Islamic State militants.
The group seized control of vast swathes of western and northern Iraq over the summer and has been battling Shia and Kurdish forces.