Yemen raid: US 'unaware' hostage Korkie was with Somers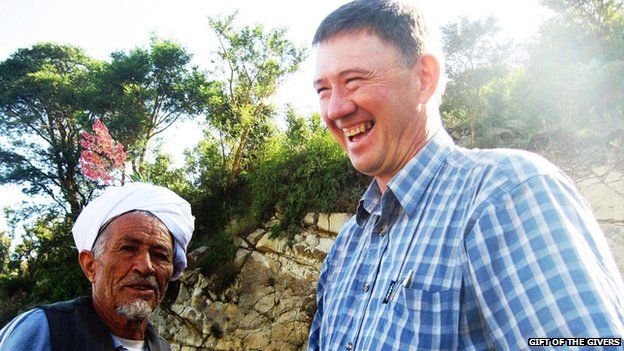 US special forces who tried to rescue photojournalist Luke Somers from al-Qaeda in Yemen were not aware of the identity of the other hostage held with him, a US official has told the BBC.
Both South African teacher Pierre Korkie and Mr Somers were shot by the militants during the raid, US officials say, and died as a result.,
A charity working with Mr Korkie said he was to have been freed on Sunday.
Its project director said the US rescue attempt had "destroyed everything".
The US says the raid in southern Yemen was launched because they believed there was an immediate threat to Mr Somers' life.
However, it is understood that a payment had been made to enable the release of Mr Korkie.
Some workers at the charity that he was with, Gift of the Givers, have criticised the US raid.
The South African government said it was "deeply saddened" by Mr Korkie's killing, adding that his body was expected to arrive in the country on Monday.
However, South African government spokesman Nelson Kgwete said that there was no time for "fingerpointing" over the death.
"We are working with the government of the United States as well as the government of Yemen, to ensure that we bring finality to this tragic incident," he said.
"We recognise that this was an attempt to secure the freedom of Mr Korkie and the hostages who had been kept in captivity," he added.
A senior official in the US administration told the BBC's Tom Esslemont in Washington that the rescuers were not aware that Mr Korkie was being held with Mr Somers.
Separately, details have been emerging of the rescue mission. US officials, speaking on condition of anonymity, have said some 40 special forces took part in the rescue attempt, which came after drone strikes in the area.
The rescuers reportedly landed by helicopter around six miles (10 km) from the compound where the hostages were being held. Backed by Yemeni ground forces, they advanced to within 100m (320ft) of the site in Shabwa province.
A gunfight broke out when they were spotted by the militants, one of whom was briefly seen entering the compound. US officials believe this was when the hostages were shot.
Both hostages were evacuated with serious injuries and received immediate medical care. Mr Korkie died on a helicopter while Mr Somers died while being treated on a US navy ship in the region.
US officials said the men could not have been hit by US gunfire, based on where they were being held. The raid lasted about 30 minutes.
The US ambassador to London, Matthew Barzun, told the BBC that the rescue mission had lacked the "element of surprise" because of threats made by the hostage takers in a video featuring Mr Somers.
"In this case, sadly, the timetable was set by the hostage takers because they had basically said publicly that they were going to do awful things by a [certain] date," he said.
He said he authorised the raid to rescue Mr Somers and other hostages held in the same location.
He also offered his "thoughts and prayers" to Mr Korkie's family, saying: "Their despair and sorrow at this time are beyond words".
The charity working with Mr Korkie said it was saddened by his death.
"Pierre Korkie was very sick - he had a hernia," Gift of the Givers' Yemen project director Anas Hamati told the BBC's Newshour.
Mediators had been working on an "arrangement to take him out", he said, adding: "His passport was ready, everything was ready.
"In that time, the attack happened by US special forces in Yemen and that has destroyed everything."
Mr Korkie was abducted with his wife Yolande in May last year in Yemen's second city, Taiz.
She was freed on 10 January without ransom and returned to South Africa.
"The psychological and emotional devastation to Yolande and her family will be compounded by the knowledge that Pierre was to be released by al-Qaeda tomorrow," the charity said in a statement.
Mr Somers, who was kidnapped in Yemen in 2013, appeared in a video this week appealing for help.
Mr Somers worked as a journalist and photographer for local news organisations. His material appeared on international news outlets, including the BBC News website.
Mr Somers was kidnapped outside a supermarket in the Yemeni capital Sanaa in September 2013.