Explosions in Bahrain villages kill two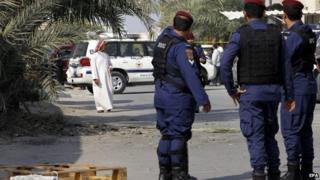 A Bahraini citizen has been killed and an expatriate wounded by an explosion south-west of Manama, officials say, the second deadly blast in two days.
The interior ministry said the "terrorist" attack took place in the predominantly Shia village of Karzakan.
A Jordanian police officer was killed late on Monday in nearby Damistan.
Bahrain has been wracked by unrest since an uprising in 2011 in which the Shia majority demanded democratic reforms from the Sunni-led government.
Tensions have high since elections last month that were boycotted by the opposition, which said parliament lacked powers and accused the authorities of redrawing constituency boundaries to favour their supporters.
Hezbollah blamed
The main Shia opposition group, al-Wefaq, condemned the latest attacks and called for an independent and transparent investigation.
The Bahraini national killed in Karzakan has so far not been identified, but the interior ministry said the injured expatriate was an Asian man.
The Jordanian police officer who died in Damistan was named as Corporal Ali Mohammed Ali.
He had been working in the kingdom as part of a security and training exchange agreement between the Bahraini and Jordanian governments, public security chief Maj Gen Tariq al-Hassan said.
Foreign Minister Khalid bin Ahmed Al Khalifa said the Damistan bomb was made by the Lebanese Shia Islamist group, Hezbollah.
The Bahraini government has previously accused Hezbollah and its ally Iran of supporting Shia militants in the kingdom, which both have denied.