Palestinian minister buried amid tensions over cause of death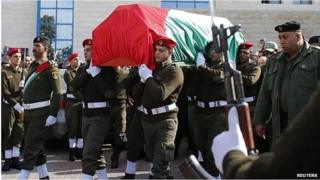 A Palestinian government minister who died after a confrontation with Israeli soldiers has been buried in Ramallah, amid a dispute over the cause of death.
Senior Palestinian official Saeb Erekat said Ziad Abu Ein had been suffocated and beaten by Israeli soldiers.
Israel, however, says Mr Abu Ein, 55, had a heart condition and suffered a heart attack brought on by stress.
He died on Wednesday shortly after an Israeli policeman grabbed him by the throat at a protest in the West Bank.
Ziad Abu Ein's funeral was held on Thursday with full military honours in Ramallah.
Thousands of people joined the procession from the presidential headquarters to a nearby cemetery, with the sounds of drums and bagpipes filling the air, as well as sporadic gunfire.
'In cold blood'
Earlier in the day, Israeli, Palestinian and Jordanian pathologists attended a preliminary examination of Mr Abu Ein's body, but Israel and the Palestinians issued differing accounts.
Palestinian chief negotiator Saeb Erekat told the BBC his death had been caused by "Israeli soldiers suffocating and beating up Ziad Abu Ein", saying he held the Israeli government fully responsible.
He said the report clearly stated that Mr Abu Ein had been "killed in cold blood".
Palestinian pathologist Saber Aloul told reporters the main cause was a blow to Ziad Abu Ein, not natural causes.
But Israel's ministry of health said the examination showed Mr Abu Ein had underlying heart problems, and the immediate cause of death was a blockage to a cardiac artery.
In a statement it said Mr Abu Ein also suffered injuries to his neck. Images from the scene of Wednesday's protest showed him being grabbed by the throat by an Israeli border guard.
Reuters news agency quoted an unnamed Israeli official familiar with the post-mortem examination as saying the minister's death was "brought on by stress... The stress may have been brought on by him being grabbed by the neck".
At the scene: Yolande Knell, BBC News, Ramallah
With three Palestinian flags flying at half-mast over the presidential headquarters, the Muqataa, hundreds of mourners gathered to pay their respects to this veteran official. Many dignitaries were visible among the crowd as they bowed for prayers.
A presidential honour guard then carried Ziad Abu Ein's coffin to a nearby graveyard where there was a 21-gun salute.
Friends of Ziad Abu Ein said he had become a martyr to the nationalist cause.
There have been calls for a strong political response to this death. Palestinian chief negotiator Saeb Erekat told the BBC that co-ordination with Israeli security forces could be stopped.
"I'm not going to jump to any conclusions but it's on the table and it's likely," he said. "There are several options and they include the stoppage of co-ordination."
Footage and images from the scene of the protest, near the unauthorised Jewish outpost of Adei Ad, showed a standoff between troops and Palestinians, followed by a scuffle between a protester and a soldier.
At one point Mr Abu Ein is seen being pushed by his throat by the border guard. He is subsequently seen collapsed on the ground. He was later taken to hospital in Ramallah but died on the way.
Palestinian President Mahmoud Abbas said Mr Abu Ein was the victim of a "barbaric act''.
UN Secretary General Ban Ki-moon called for an investigation into the death and urged "all sides to exercise maximum restraint and avoid escalation".
Israeli Prime Minister Benjamin Netanyahu passed a message to the Palestinian Authority saying that Israel would investigate the incident, while urging a "need to calm down the situation and act responsibly".
Israeli Maj Gen Yoav Mordechai said all soldiers who involved in the incident would be questioned and Israel would apologise if it concluded a mistake had been made.
As tensions grew, the Israeli military beefed up its forces in the West Bank.
Mr Abu Ein was among dozens of foreign and Palestinian activists taking part in a protest against land confiscations.
They had planned to plant olive tree saplings on a patch of land near the Jewish settlement of Shiloh, which Palestinians believe has been earmarked for annexation by Israel.
Several dozen protesters marched from the village of Turmusaya towards Adei Ad, about 5km (3 miles) south-east of Shiloh, where they were stopped by soldiers and border police.
Palestinian witnesses and news agency journalists said tear gas was fired. Palestinian activist Mahmoud Aloul said Mr Abu Ein was hit by a tear gas canister.
An Israel Defense Forces statement said troops had used "riot dispersal means" to stop about "200 rioters" advancing into Adei Ad.
Mr Abu Ein, a minister without portfolio, was head of a department dealing with Israeli settlements and its West Bank barrier.
He once received a death sentence, commuted to life imprisonment, from a court in Israel for a 1979 bombing that killed two Israeli teenagers.
He was released in 1985 as part of a prisoner exchange that saw the release of three Israeli soldiers captured in Lebanon.