Shia pilgrims flock to Karbala for Arbaeen climax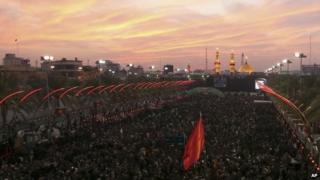 Huge numbers of Shia Muslim pilgrims gathered in the Iraqi city of Karbala at the climax of a key festival, despite threats of violence.
Iraq says up to 17 million made the pilgrimage over 40 days this year, more than a million from Iran, and many remained for the ceremony of Arbaeen.
Tight security aimed to prevent attacks by Islamic State (IS) and other groups.
Arbaeen marks the end of the 40-day mourning period for the grandson of the Prophet Muhammad.
Hussein, the third Shia Imam, was killed in battle at Karbala in the 7th Century.
His martyrdom is considered a defining event in the schism between Sunnis and Shia Muslims.
There have been no reports of major incidents at this year's Arbaeen.
The governor of Kerbala Akeel al-Turaihi praised the peaceful conclusion of the pilgrimage.
"We think that the successes of this visitation (pilgrimage) is one of the chapters of victories achieved by our armed forces and volunteers against IS" he said.
IS regards Shia Muslims as heretics and regularly targets them in attacks throughout Iraq.
On Friday, a mortar targeting a Shia mosque north of Baghdad killed eight people.
Arbaeen: Then and now
Biggest annual gathering of Shia Muslims worldwide
Arbaeen period lasts 40 days, with ceremonies marking the climax in Karbala
The pilgrimage was suppressed by Saddam Hussein, Iraq's former leader, who persecuted the Shia Muslims
After his overthrow in 2003, Arbaeen was revived and now attracts many millions every year, including pilgrims from Iran and India
Massive rise in visitor numbers in 2014, partly attributed to easing of visa requirements for Iranians
New access roads had to be opened to admit the surge in pilgrims this year, an Iraqi official told AFP news agency
Catering and clean-up operation supported by security forces and tens of thousands of volunteers.