Syria conflict: Assad forces move on Aleppo supply hill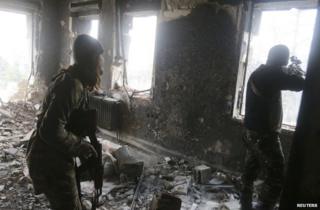 Forces loyal to Syrian President Bashar al-Assad have pushed closer to a hill controlling a vital rebel supply line into the north-western city of Aleppo.
They killed 21 Islamist rebels on Sunday as they closed in on Handarat hill, opposition activists say.
Handarat overlooks the main rebel supply line from Turkey into Aleppo, Syria's second city.
Meanwhile, rebels made gains in the neighbouring province of Idlib, reportedly killing 15 soldiers.
The fighting near Aleppo comes just as the UN is trying to negotiate a truce for the city, which has been divided between the rebels and Assad loyalists for more than two years.
The UN envoy to Syria, Staffan de Mistura, wants to secure a ceasefire that would allow humanitarian aid to reach those in dire need.
He has warned the fall of the city could create an additional 400,000 refugees. More than 3,250,000 Syrians are currently living as refugees outside the country, according to the UN.
Checkpoints overrun
Government troops took control of most of the Mallah farms area near Handarat, state media reported.
Nine government soldiers were also killed in the fighting, according to the Syrian Observatory for Human Rights, an opposition group which monitors the conflict from the UK.
In Idlib, rebels and Nusra Front militants seized at least three government checkpoints near two military bases, Wadi Deif and Hamidiyeh, the Observatory said.
Another opposition monitoring group, the Local Coordination Committees, said four checkpoints had been taken.
At least 15 pro-government soldiers and eight rebels were killed, the Observatory said.
Some 200,000 people have been killed in Syria since the uprising against President Assad began more than three and a half years ago, according to the UN.