Israel-Palestinians: Kerry meets Lavrov in Rome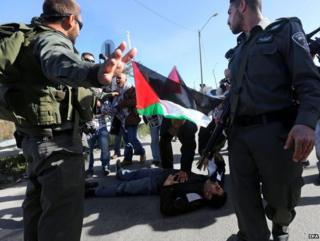 US Secretary of State John Kerry has met his Russian counterpart, Sergei Lavrov, in Rome on the eve of talks with the Israeli prime minister.
Mr Lavrov opened the talks at the US embassy with a call to work together to prevent any further deterioration in the situation in the Middle East.
Benjamin Netanyahu is due to meet Mr Kerry as EU states push for a deal on Palestinian statehood.
Israel is resisting calls for an early withdrawal from the West Bank.
A Palestinian draft resolution being circulated by Jordan at the UN calls for the Israelis to leave the occupied territories - the territory of the proposed future Palestinian state - by November 2016.
According to AFP news agency, the draft will be submitted to the UN Security Council on Wednesday.
But Western diplomats who spoke to Reuters news agency rejected the draft with its deadline as "unbalanced".
Short notice
Sunday's talks, which were also expected to cover Ukraine and Syria, ended without a news conference.
Welcoming his Russian guest, Mr Kerry said: "[I appreciate] Foreign Minister Lavrov changing his schedule and travelling on short notice to be here and we look forward to our conversations."
"I am convinced that the Middle East settlement issues need to be solved urgently and we must not allow the situation to deteriorate," Mr Lavrov said for his part.
"I am greatly interested in discussing what we can do together to avoid this."
Israeli relations with the Palestinians worsened this autumn, after the Gaza conflict and amid growing unrest in Jerusalem.
France, the UK and Germany are drafting an alternative UN resolution which calls for a return to negotiations with a view to achieving a two-state solution by which Israel and a Palestinian state would co-exist.
Mr Netanyahu said on Sunday that pulling out of the West Bank and East Jerusalem now would bring "Islamic extremists to the suburbs of Tel Aviv and to the heart of Jerusalem".
US officials quoted by AFP said the US administration had not yet decided whether to back or veto any UN resolution on the issue.