Islamic State crisis: Religious police 'kidnapped' in Syria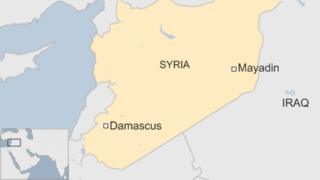 Reports from Syria say that some members of the religious police force set up by the militant group Islamic State (IS) have been kidnapped.
Activist group the Syrian Observatory for Human Rights said they had been ambushed and abducted by unknown gunmen in the eastern city of Mayadin.
The force patrols areas held by IS and enforces its version of Islamic law.
It comes a day after reports that the force's deputy leader in the same area had been killed by unknown assailants.
The Observatory, which is based in the UK, said it was unclear how many members of the police - known as Hisbah - had been kidnapped.
"There is an escalation in the operations against the Hisbah because they are arresting people and insulting their dignity for reasons like smoking," Observatory director Rami Abdel Rahman told AFP news agency.
The IS police force has confiscated and burned tobacco products and punished those caught smoking.
According to reports, the force's deputy commander in the area had been captured, tortured and beheaded.
His severed head was reportedly found with a cigarette in its mouth and close by was a note with a mocking reference to the fact that smoking is a sin in the eyes of the religious police.
IS has seized large swathes of Syria and Iraq, declaring a "caliphate" in the areas in controls.