Israel-Palestinian 'war crimes' probed by the ICC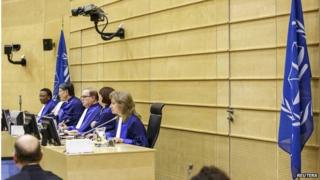 The International Criminal Court has begun considering whether to investigate alleged war crimes in the occupied Palestinian territories.
The Hague-based ICC said on Friday it had "opened a preliminary examination into the situation in Palestine".
It is an automatic step taken by the court upon a referral. The Palestinians have asked the ICC to investigate Israeli "crimes" since June 2014.
Israel and the US have strongly criticised the Palestinians' move.
After the Palestinians applied to join the ICC, Israeli Prime Minister Benjamin Netanyahu said they had chosen "a path of confrontation" and that Israel would "not sit idly by".
Israel has accused the Palestinians themselves of committing war crimes, including by firing missiles into civilian areas during the 50-day conflict between Israel and militants in Gaza last year.
The Palestinians say Israel committed war crimes when it carried out air strikes and an invasion of Gaza, which left more than 2,100 Palestinians dead. The UN says most of those killed were civilians. Tens of thousands of homes in Gaza were also destroyed or badly damaged.
On the Israeli side, 67 soldiers and six civilians were killed by militant attacks in the conflict, which began in July and ended with a ceasefire in August.
The Palestinians will formally join the ICC on 1 April - 90 days after they submitted documents requesting membership.
'Examining information'
Palestinian President Mahmoud Abbas has asked the court to investigate Israeli "crimes... committed in the occupied Palestinian territory, including East Jerusalem, since June 13, 2014".
This covers events prior to and during last summer's conflict. The period includes the kidnapping and murder by Jewish extremists of 16-year-old Palestinian Mohammed Abu Khdair on 2 July, one of the events which fuelled an escalation of violence which led to the outbreak of the summer conflict.
The Palestinians' starting point begins a day after the kidnapping of three Israeli teenagers, who were subsequently murdered, by Hamas militants in the West Bank on 12 June. Mohammed Abu Khdair's killers said they murdered the teenager in revenge for the murders of the three Israelis.
In a statement, the ICC says: "A preliminary examination is not an investigation but a process of examining the information available in order to reach a fully informed determination on whether there is a reasonable basis to proceed with an investigation."
Israel and the US have strongly criticised the Palestinians' decision to join international bodies, including the ICC, saying it undermines chances for a negotiated peace deal.
Earlier this month, Israel took punitive action against the Palestinians for requesting to join the ICC by withholding the transfer of $127m (£82m; €106m) in tax revenues.
The US criticised the Israeli measure, saying it would raise tension, while also describing the Palestinians' step as "entirely counterproductive".