Islamic State militants 'execute 15 people in Syria'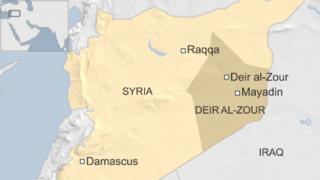 The Islamic State (IS) militant group is reported to have executed 15 people over the past 24 hours in Syria.
Some of the victims were shot and crucified, according to the UK-based Syrian Observatory for Human Rights.
Horrifying images have also emerged from IS-controlled territory in Iraq showing its fighters throwing two men off a high building.
The group controls large areas of Iraq and Syria, where it declared the creation of a caliphate last year.
The Syrian Observatory said the executions were carried out in Deir al-Zour, Raqqa and other towns in eastern Syria.
Most of those killed are understood to have been shot before their bodies were crucified and put on public display.
The two men who were pushed to their deaths in Iraq were said to have carried out homosexual acts, which the militants have banned.
A sequence of pictures on social media starts with one that shows masked militants forcing the men to the edge of the roof of a high building.
The next image captures one of the victims in mid-air as a crowd of people below watch.
The BBC's Alan Johnston says these appalling and very public punishments are used by IS to enforce their extraordinarily harsh rules.
Meanwhile, Syrian Observatory director Rami Abdel Rahman said IS has launched a new offensive against Syrian Kurdish fighters in the northern city of Kobane.
Last week, Kurdish fighters were said to have seized a key district of Kobane that meant they were in control of 80% of the city.
IS advanced on the town in September and quickly overran much of it but Kurdish fighters helped by US-led air strikes have steadily regained control.