Iranian paper shut over Clooney 'Je Suis Charlie' photo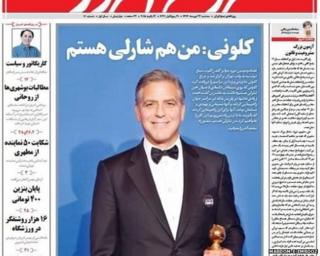 An Iranian court has ordered the closure of a newspaper that published a picture of George Clooney wearing a badge backing French magazine Charlie Hebdo, which was attacked last week.
The Mardom e-Emruz (Today's People) newspaper ran a picture of the actor headlined "I'm Charlie too".
But conservative elements in Teheran were incensed by a catchphrase they regard as "anti-Islamic", BBC Middle East analyst Alan Johnston says.
Judges said the headline was "obscene".
Charlie Hebdo has published cartoons of the Prophet Muhammad, which many Muslims see as an offensive act.
The cover of the magazine's latest edition, published after the attack in which 12 people were killed, featured a cartoon of the Prophet weeping while holding a sign saying "I am Charlie".
Seven million copies of the edition are being printed in view of extraordinary demand, distributors announced on Saturday.
"The court in charge of cultural affairs and the media imposed the ban on the newspaper for publishing a headline and a picture which it deemed insulting," Mardom-e Emrouz director Ahmad Sattari told the Irna news agency.
Ebrahim Khalili, a senior editor with BBC Persian, says the newspaper was only in its first month of publication, but that its political position was seen as close to that of Iran's President Hassan Rouhani.
He says the court's ruling is pending a final decision due later, but is unlikely to be overturned.