Japan 'exploring all ways' to free Islamic State hostages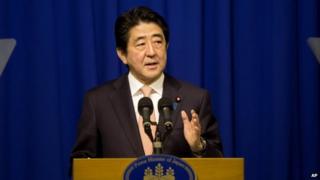 Japan says it is exploring every avenue to save two hostages who Islamic State (IS) militants say they are holding.
Chief Cabinet Secretary Yoshihide Suga said the government was trying to contact the hostage-takers but that it would not give in to terrorism.
A video purportedly from IS and released on Tuesday demanded a ransom of $200m (£130m) within 72 hours.
Tokyo, which lacks strong diplomatic ties in the area, believes the deadline expires at 14:50 (05:50 GMT) on Friday.
"We haven't been able to confirm the safety [of the two]," Japan's Kyodo news agency quoted Mr Suga as saying.
"We are exploring every possibility available to save their lives," he told a press conference, adding that the government had not heard directly from the group.
The threat to kill the men was contained in a video, shot in an unidentified desert, and which has not been independently verified.
The video named the two men as Kenji Goto, a well-known freelance journalist, and Haruna Yukawa, who reportedly went to Syria to set up a private military contracting company.
Aid money
The ransom demanded by the militants is the same amount of money as that pledged in non-military aid for countries fighting IS by Japan's Prime Minister Shinzo Abe during a tour of the Middle East on Saturday.
Officials said that much of the $200m fund would be focused on helping refugees displaced by the conflict in Syria and in Iraq.
Cabinet Secretary Suga said on Thursday that the militants misunderstood Japan's position.
"We wish not to fight against the world of Islam, we want to help the more than 10 million refugees in the region. This is humanitarian and non-military support. We want them to understand this, and free the hostages immediately," he said.
---