Yemen crisis: Thousands rally in Sanaa amid power vacuum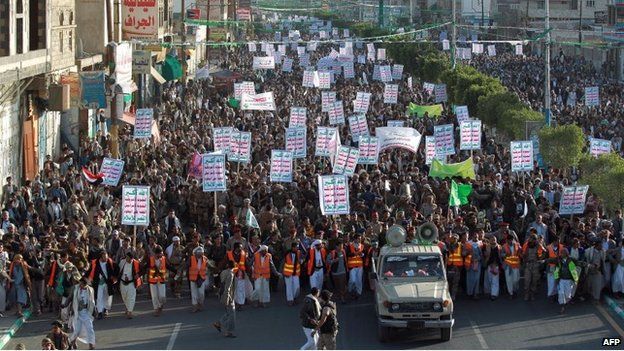 Thousands have been marching for and against Shia Houthi rebels amid a dangerous power vacuum following the resignation of Yemen's leaders.
President Abdrabbuh Mansour Hadi said he could no longer stay in office as the country was in "total deadlock" after a stand off with the rebels.
Yemen's parliament is to hold a crisis meeting to discuss whether it will accept Mr Hadi's offer
Meanwhile, aid agency Oxfam says Yemen is nearing a humanitarian catastrophe.
It warned in a new report released on Friday that the country was on "the brink of humanitarian disaster with millions of lives at risk", saying that half of its population was in need of humanitarian aid.
The Houthis, who seized the presidential palace earlier this week, have also encircled the parliament building and the houses of the defence minister and the intelligence chief, the AFP news agency reported.
President Hadi is also under de facto house arrest.
Thousands of Houthi supporters staged a rally north of the capital Sanaa on Friday with placards calling for 'Death to America, Death to Israel'. A smaller counter-rally was held near the University of Sanaa.
Thousands also demonstrated against the Houthis in the southern city of Aden. The south was a separate country until 1990 and its inhabitants are pressing their case for independence.
The resignation of President Hadi needs to be approved by lawmakers to take effect. One of his advisers told AFP that parliament would meet on Sunday at the earliest because it is currently in recess.
Despite the crisis, the US says it maintains a "strong counter-terrorism partnership" with the Yemeni security services.
Yemen has been a key ally in the US fight against al-Qaeda in the Arabian Peninsula.
White House spokesman Josh Earnest called for a quick, peaceful transition. The US has further reduced staff at the embassy in Sanaa in light of the current situation, he said.
Earlier this week, Houthi gunmen fired on Prime Minister Khaled Bahah's convoy and then laid siege to the presidential palace, where he was staying.
Then on Wednesday the home of President Hadi was shelled, shattering a ceasefire that had been agreed only hours earlier.
The ceasefire deal had met a series of rebel demands including the expansion of Houthi representation in parliament and key state institutions.
In return, the rebels said they would pull back from their positions and free the president's chief-of-staff, whom they have held since Saturday. But so far they have not done so.
The Houthis, who follow a branch of Shia Islam known as Zaidism, have staged periodic uprisings since 2004 in an effort to win greater autonomy for their northern heartland of Saada province.