Five Lebanon soldiers killed in border clash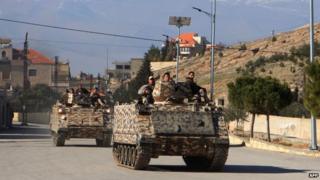 Five Lebanese government soldiers have been killed in clashes with militants near the Syrian border, the Lebanese army has said.
Nine militants also reportedly died in the fighting in the village of Ras Balalbek, near the town of Arsal.
No group has claimed responsibility for the gunmen's attack which was repelled.
The area has seen previous incursions by Islamist militants from Syria's conflict. In August, gunmen attacked Arsal, capturing Lebanese soldiers.
Some of the soldiers have since been killed.
Lebanon's security has been severely damaged by the Syria crisis that began in 2011.
It has also been worsened by its own paralysed government. The country has been without a president since May last year.