Assad rejects Syria opposition 'puppets' as Moscow talks begin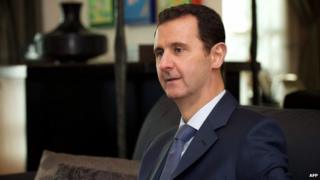 Syria's President Bashar al-Assad has dismissed the country's Western-backed opposition as "puppets", as a new round of peace talks begins in Moscow.
In an interview with Foreign Affairs, Mr Assad questioned if any dialogue with people who were "paid from the outside" would be fruitful.
The main Western-backed alliance, the National Coalition, has already said it will not attend the four days of talks.
However, five of its members are due to participate in a personal capacity.
They will be joined by representatives of opposition groups tolerated by the authorities in Damascus.
US strikes 'window-dressing'
The talks hosted by Russia, one of Mr Assad's staunchest allies, began on Monday with up to 30 members of the opposition expected to attend.
They will be joined on Wednesday by a government delegation led by Syria's permanent representative to the UN, Bashar Jaafari.
Russian Foreign Minister Sergei Lavrov has said he hopes to generate "chemistry" that will help the UN envoy to Syria, Staffan de Mistura, organise a peace conference to end the four-year conflict, which has left more than 200,000 people dead.
However, a source in the National Coalition doubted Russia's ability to be an impartial arbiter, telling the AFP news agency: "Any talks should be held in a neutral country and overseen by the United Nations."
Two previous rounds of UN-mediated talks in Geneva in early 2014 ended without success.
President Assad said the conflict could only be ended with a political solution but was dismissive of the idea of negotiating with exiled groups.
He pointed to the fact that leading rebel groups on the ground had refused to recognise the authority of the National Coalition.
"If you want to talk about fruitful dialogue, it's going to be between the government and those rebels."
"Opposition means national; it means working for the interests of the Syrian people. It cannot be an opposition if it's a puppet of Qatar or Saudi Arabia or any Western country, including the United States, paid from the outside. It should be Syrian," he added.
Mr Assad also called US plans to train "moderate" rebels to fight the jihadist group Islamic State, which controls large swathes of northern and eastern Syria, "illegal" and "illusory".
"Bringing 5,000 [rebels] from the outside will make most of them defect and join [IS] and other groups, which is what happened during the last year," he warned.
The president called the US-led air strikes in Syria "window-dressing", saying they had failed to stop the jihadists making gains since they started in September.
"If the terrorists can withstand the air strikes for this period, it means that the Turks keep sending them armaments and money. Did the United States put any pressure on Turkey to stop the support of al-Qaeda? They didn't."
Turkey denies arming groups affiliated to al-Qaeda, but acknowledges giving Islamist rebels shelter and logistical support.