US Yemen embassy closes to public over security fears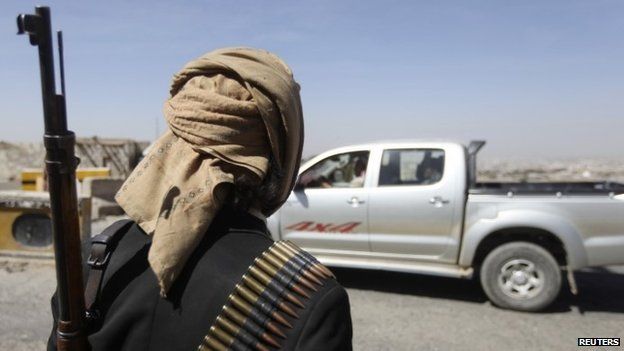 The US embassy in the Yemeni capital Sanaa has been closed to the public because of security concerns.
The state department said the embassy would be shut until further notice "out of an abundance of caution and care for our employees and others".
Last week the Western-backed president and PM resigned after Shia Houthi rebels tightened their grip on Sanaa.
President Abdrabbuh Mansour Hadi said he could not continue after the Houthis failed to honour a peace deal.
Correspondents say that in the aftermath of President Hadi's resignation there is a sense that Yemen is drifting through a dangerously uncertain political moment.
Consular operations will resume as soon as "our analysis indicates we are able to do so safely", the state department said.
It said US citizens in the country "remain vulnerable to kidnappings and terrorist attacks", especially when travelling to work.
The closure took place on the same day that a suspected US drone strike on a car in the east of the country killed three men believed to be al-Qaeda militants, officials said.
Correspondents say the attack appears to show that America's remotely piloted air war has not been curtailed by the removal of Yemen's US-backed leadership.
Thousands of Yemenis took to the streets Sanaa and other cities over the weekend in protest against the actions of the Houthi rebels.
Houthi militiamen are now one of Yemen's most powerful factions, in charge of the capital and other parts of the country.
Last week they gained control of the presidential palace, forcing Mr Hadi to remain in his residence until he resigned.
The fighters, many wearing tribal clothes, have set up checkpoints throughout Sanaa.
Houthi gunmen and their supporters on Monday were reported to have seized the main university in the city and detained several people suspected of involvement in the demonstrations against their rule.
Related Internet Links
The BBC is not responsible for the content of external sites.