Egypt activists lose final appeal at protest sentences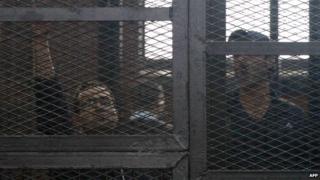 Three Egyptian activists have lost their final appeal against three-year prison sentences they were handed in 2013 for violating an anti-protest law.
Last April, a Cairo appeals court upheld the sentence given to Ahmed Maher, Ahmed Douma and Mohamed Adel for taking part in an unauthorised protest.
Tuesday's ruling by the Court of Cassation meant all legal avenues had now been exhausted, their lawyer said.
The men came to prominence during the 2011 uprising against Hosni Mubarak.
Mr Maher and Mr Adel were founding members of the 6 April Youth Movement, which led many of the mass protests, while Mr Douma was a prominent blogger.
Crackdown
The three were arrested after protesting outside parliament on 30 November 2013 against the passing of a law requiring authorisation for public gatherings of more than 10 people.
The next month they were convicted of participating in an unauthorised protest and assaulting police, and sentenced to three years in jail. They were also fined 50,000 Egyptian pounds (£4,400; $6,700).
Correspondents say the Court of Cassation's ruling is likely to ignite further criticism of the anti-protest law and alleged police brutality in its implementation.
It comes two days after at least 20 people died in clashes with police at protests marking the anniversary of the start of the 2011 uprising.
The restrictions on protests were instituted by the interim government that took power after the military overthrew Mr Mubarak's successor, Mohammed Morsi, in July 2013 after mass protests against his rule.
A crackdown on Mr Morsi's Islamist supporters since then has seen more than 1,400 people killed and 16,000 others detained, activists say.