IS hostages: Japan analyses new voice recording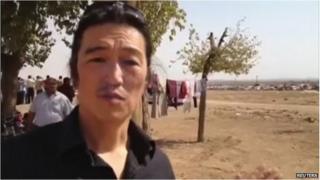 Japan says it is investigating a purported new voice recording of hostage Kenji Goto, who is being held by Islamic State (IS) militants.
The person in the recording says a Jordanian pilot held by IS will be killed unless an Iraqi prisoner held by Jordan is freed by sunset on Thursday.
Jordan has offered to free Sajida al-Rishawi in exchange for the pilot.
But it has said it wants confirmation that Moaz al-Kasasbeh is safe, and has made no mention of Mr Goto's release.
The BBC's Rupert Wingfield-Hayes in Tokyo says it appears from the latest message that IS is not ready to accept that offer.
The Japanese government appears to have become a spectator in this drama, as the life of its citizen hangs in the balance, our correspondent says.
Jordan is part of the US-led coalition which is carrying out air strikes against IS in Syria and Iraq.
'Border by sunset'
On Sunday, IS said it had killed another Japanese hostage, Haruna Yukawa, after demanding a $200m (£130m).
Then on Tuesday, a video was released in which a voice claiming to be that of Mr Goto said Jordan had 24 hours to free Iraqi al-Qaeda militant Sajida al-Rishawi. There was no mention of a ransom.
She was sentenced to death in Jordan in relation to bomb attacks in the capital, Amman, in 2005, which killed 60 people.
---
Analysis by Yolande Knell, BBC News, Amman
The Jordanian king is facing a terrible dilemma. He is a staunch US ally - a key part of the US-led coalition against IS, with a need to face IS that controls large areas just across the border in Iraq and Syria. But he is under increasingly heavy pressure from relatives of Moaz al-Kasasbeh.
He is the first member of the international coalition forces to have fallen into IS hands. And this latest ordeal has hardened public opposition to the bombing campaign against IS which has affected military morale.
However, Jordan's priority remains their own pilot - amid mounting frustration among Lt Kasasbeh's family and society at large that IS appears to have shifted its demands, making no mention of the pilot's release.
---
Lengthy border
The new unverified recording, posted on YouTube, again claiming to be the voice of Mr Goto, appears to extend that deadline.
It said: "If Sajida al-Rishawi is not ready for exchange for my life at the Turkish border by Thursday sunset (14:30 GMT) 29th of January Mosul time, the Jordanian pilot Moaz al-Kasasbeh will be killed immediately."
It was not clear whether either Mr Kasasbeh or Mr Goto would be released under the latest alleged threat.
There are no details of where the hostages are being held - or where along the lengthy border a possible release may occur.
Japan's Chief Cabinet Secretary Yoshihide Suga said the latest video was still being verified but that "with all of the information gathered we think that there is a high probability that the voice was indeed that of Mr Goto".
Jordan's government is reportedly holding indirect talks with the militants through religious and tribal leaders in Iraq to secure the release of the hostages, the Associated Press (AP) news agency reports.
Mr Goto, 47, is a well-known freelance journalist and documentary film-maker who went to Syria in October, reportedly to try to get Mr Yukawa - a private contractor - released.
His family have made emotional appeals to the Japanese government to secure his release.
Mr al-Kasasbeh was captured on 24 December after his plane crashed in northern Syria. His relatives and other supporters have staged protests in Amman calling for the government to help him.
His father, Safi al-Kasaesbeh, said he had been reassured in person by Jordan's King Abdullah on Wednesday.
"The king told me that Muath is like my son and God willing everything will be fine," AP quoted him as saying.
---