Hezbollah says it does not want war with Israel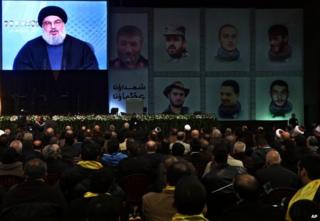 The leader of Lebanon's Hezbollah group, Hassan Nasrallah, has said it does not want war with Israel but is not afraid to fight.
He was speaking after border clashes on Wednesday left two Israeli soldiers and a Spanish UN peacekeeper dead.
Hezbollah said it had struck at the Israeli military in retaliation for an air attack on a convoy 10 days ago.
Sheikh Nasrallah said his group had the right to respond to "aggression" from Israel "wherever" it wished.
Hezbollah and Israel fought a brief, deadly war in 2006, which ended in stalemate after death, destruction and disruption on both sides of the border.
The group has since become embroiled in the war in Syria, on the side of President Bashar al-Assad.
Sheikh Nasrallah was speaking at an event in Beirut to commemorate the deaths of six Hezbollah fighters and an Iranian general killed by the air strike in Syria on 18 January, which was widely blamed on Israel.
Reports from Israel said the group was believed to be planning to attack the Jewish state.
"We do not want a war but we are not afraid of it and we must distinguish between the two and the Israelis must also understand this very well," he said.
In Wednesday's violence, rockets were fired at Israeli military vehicles near Mount Dov, in the Shebaa Farms area, a tract of land between the borders of Israel, Lebanon and Syria.
Israel replied with a bombardment and the peacekeeper was killed in the exchange of fire.
On Thursday, Israeli Prime Minister Benjamin Netanyahu said Iran was responsible for the attack on the Israeli troops.