Islamic State: Jordan tortured by fate of pilot hostage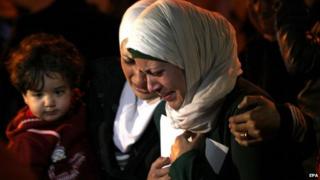 The family of Lt Moaz al-Kasasbeh has endured more than 40 days of anguish since learning of his capture by Islamic State, but the past week has been the most traumatic.
Twice militants set deadlines for a deal to be done, threatening to kill the Jordanian pilot if his government did not hand over an imprisoned Iraqi woman in exchange for a Japanese journalist.
At sunset on Wednesday, and then on Thursday, no news came.
Now the Japanese journalist, Kenji Goto, appears to have been killed, and Jordan is waiting anxiously for any news about Lt Kasasbeh.
Jordan's military states that it has seen no proof he is "safe and well". His close relatives say the same.
"Until now we don't have any news about my brother [to show] whether he is alive or not but we hope to God he's alive," Jawat Kasasbeh tells me.
"It's too difficult to imagine what we've been through. We hope God will give us a chance to see my brother again soon."
'Not our war'
Sipping bitter coffee in a fug of cigarette smoke, members of the fighter pilot's powerful tribe, from Karak, south of Amman, have been sitting and waiting for developments at a community building in the capital.
Posters of the 26-year-old in uniform bearing the legend "We are all Moaz" are displayed on the walls.
As he nervously fingers his prayer beads, the father of the pilot, Safi al-Kasasbeh, receives a series of politicians and public figures.
On Wednesday night, after a demonstration outside the nearby al-Husseini Palace, he met King Abdullah. The king, Mr Kasasbeh said, assured him that "everything will be fine, God willing".
Mr Kasasbeh had been highly critical of how the Jordanian authorities were handling this affair and their foreign policy.
When we interviewed him, he said his son should never have been part of the United States-led coalition fighting IS in the first place.
"When Moaz joined the air force we never knew he would be joining other countries to fight outside our borders," he commented.
"Really, to join the alliance was not in our interest. It's not our war."
It was seen as symbolically important when Jordan and other predominantly Sunni Muslim Arab nations joined international forces carrying out air strikes against IS - a Sunni extremist group - in parts of Syria last September.
But the capture of Lt Kasasbeh- the first foreign pilot to fall into the hands of the extremists - has hardened domestic public criticism of the military offensive.
The dissemination of humiliating pictures of him, naked from the waist down, caused widespread anger in Jordan.
"Unfortunately the suffering of Moaz al-Kasasbeh is not directing things in the path of being more supportive of this war against Isis (former name of IS)," says Rula al-Farra al-Hroob, a Jordanian MP.
"On the contrary, it's making things worse for the government and it's making it harder to convince Jordanians that we should be in this war in the first place."
Mixed views on IS
Musa Shteiwi, head of Strategic Studies at Jordan University, says that the country already faces an internal threat from sympathisers of IS.
"Many people still see what's going on in Iraq and Syria as a sectarian war and they think Isis is supporting the Sunni population against Shia forces. [They] also see Isis as resisting US and Western domination in the region," he says.
However, he maintains there is popular backing for Jordan to remain in the coalition because this is "a pre-emptive strategy" to push back IS fighters who were advancing towards Jordan's borders.
In its effort to bring back Lt Moaz, the Jordanian government did offer to swap him for Sajida al-Rishawi, the failed suicide bomber from Anbar, Iraq.
She is on death row in Jordan after being convicted for her part in a triple attack on hotels in Amman in 2005 that killed 60 people.
Rishawi has close family ties to the Iraqi branch of al-Qaeda, a precursor of Islamic State. Three of her brothers were al-Qaeda operatives killed in fighting in Iraq.
While there is acceptance that negotiating with terrorists could set a dangerous precedent, many ordinary Jordanians would support a prisoner deal.
The latest developments have taken a deep emotional toll and made the struggle against IS seem much more personal.
"We are very upset. In each family we feel Moaz is like our son," says Ahlam Sidir, a shopper in downtown Amman.
"We condemn the brutal way that Daish [IS] is treating him. It's hurting us. We are desperate for him to come home."
---
---