Gaza conflict: Schabas quits UN inquiry over bias claims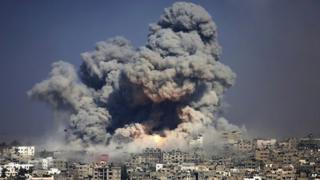 The head of a UN inquiry into potential war crimes committed during the 2014 Israel-Gaza conflict has resigned amid allegations of anti-Israel bias.
William Schabas acknowledged he had previously done work for the Palestine Liberation Organisation (PLO), and did not want this to compromise the probe.
Israel had accused Prof Schabas of "clear and documented bias" against it.
Israeli Prime Minister Benjamin Netanyahu said the investigation should now be scrapped.
The inquiry's panel, which was commissioned by the UN Human Rights Council (UNHRC), is due to issue its findings in March.
'Conflict of interest'
Mr Netanyahu said the council was "an anti-Israel body" whose record proved it had "nothing to do with human rights".
"This is the same council that in 2014 made more decisions against Israel than against Iran, Syria and North Korea combined," he said.
"After the resignation of William Schabas it is time to shelve the anti-Israeli report his committee wrote."
Prof Schabas, a Canadian international law expert, was appointed last August to lead a three-member group looking into alleged war crimes during Israel's military offensive in Gaza.
UNHRC spokesman Rolando Gomez said Israel had accused Prof Schabas of having a "conflict of interest", AFP news agency reports, due to paid consultancy work done by Prof Schabas for the PLO in 2012.
In his resignation letter, Prof Schabas said he did not want the issue to overshadow the work of the inquiry which "is at a decisive stage".
"Under the circumstances, and with great regret, I believe the important work of the Commission is best served if I resign," he added.
Israel refused to co-operate with the investigation, saying the panel was unfairly targeting Israel and ignoring abuses committed by Palestinian militants.
The Palestinians and Israel have each accused the other of committing war crimes during the 2014 conflict.
The war left more than 2,100 Palestinians dead, the majority civilians, according to the UN. Tens of thousands of homes in Gaza were also destroyed or badly damaged.
On the Israeli side, 67 soldiers and six civilians were killed by militant attacks, which also caused damage to homes and other buildings. Israel says the offensive was aimed at ending rocket fire and preventing militants attacking it via tunnels.
The 50-day war began in July and ended with a ceasefire in August.