Jordan pilot: Anger dominates Mideast media response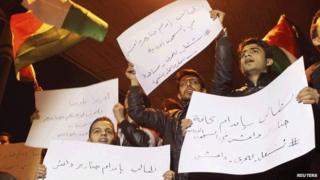 Middle Eastern media reaction to the killing of Jordanian pilot Moaz al-Kasasbeh by Islamic State (IS) has shown both anger and disgust.
Jordanian commentators call for national unity and revenge, but there are few clear ideas in the regional media on what to do next.
Iranian state television, while expressing horror at the manner of the pilot's death, accuses Jordan and other Arab states of having helped create Islamic State in the first place.
Al-Jazeera TV reported "large-scale demand on the street for revenge in kind". Members of the public also told another pan-Arab station, Saudi-owned Al-Arabiya TV, that Jordan should avenge his death.
The correspondent of Al-Alam, Iran's Arabic-language satellite TV, thought the killing less exceptional, saying Islamic State's record was "full of such crimes", and reflected on the "Hollywood-like" production values of the video of his death, highlighting its use of "Western technology".
'Defies the imagination'
The killing of Lt Kasasbeh is front-page news in the Arabic press, with Jordanian papers expressing anger and seeking to distinguish the actions of IS from the Muslim faith.
Al-Dustur calls IS a "misguided criminal group that has nothing to do with our holy religion", and editor Muhammad al-Tal says it has "gone too far".
Al-Ghad's editor, Jumanah Ghunaymat, says the killing "defies the imagination".
Jordanian papers are also keen to promote the idea of rallying around the monarchy, with both Al-Dustur and Al-Ghad declaring that Lt Kasasbeh "unites Jordanians". The latter adds that his death will "stiffen the people's support for Jordan's war against terrorism".
The need to prevent national division figures in Al-Ra'y daily, which warns IS supporters in Jordan to watch their step. "Anyone who pipes up even in a whisper of sympathy will pay a high price, as he will be our enemy."
'Chaos threatens Jordan'
Papers in other countries that are members of the coalition against IS - Saudi Arabia, Qatar, Bahrain and the United Arab Emirates - echo Jordanian disgust at the killing, although they generally steer clear of vowing revenge.
But Samir al-Barghouti in Qatar's Al-Watan is rare in spelling out that revenge should take the form of a ground offensive by Arab armies to crush Islamic State. "It would not be difficult for Arab troops to crush it," he writes.
The Jerusalem-based Palestinian paper Al-Quds denounces IS's "ugly and barbaric crime" - "these people who hoist the flag of Islam are the furthest from its principles and teachings", it says.
A few papers are less sanguine about Jordan's resolve, with Lebanon's left-wing Al-Safir declaring "Brutal chaos threatens Jordan with fire". The paper thinks IS has gone too far down the path of terrorism to back down, and will "come up with new methods" of killing.
Syria's official Al-Thawra seeks to play up divisions within the anti-Islamic-State coalition, saying that Lt Kasasbeh's family "holds the Jordanian government and international alliance responsible" for his death.
'Evil distilled'
Iranian media across the political spectrum are united in condemning the "savage" killing, although state TV makes a point of accusing Jordan, Turkey and Saudi Arabia of having initially supported IS in an effort to oust Iran's Syrian ally, Bashar al-Assad.
"The hand that wielded the knife is now bleeding", declared Channel One, reporting "widespread protests" in Jordan over the government's alleged support for IS.
It finds a member of the public in Lt Kasasbeh's hometown of Karak, who says Jordan is being "paid back" for that support.
The Israeli media also report the story prominently, and it appears on the front pages of the main newspapers.
Ben Dror-Yemini in Yediot Aharonot is appalled at "evil distilled in a snuff film", and hopes that the world will "sober up before it's too late" and confront a "jihad that has become much stronger and murderous".
Boaz Bismuth in pro-government Yisrael Hayom fears that "Jordan, our friends across the border, are the next target for the scum of mankind", and calls for a global effort to "banish these human beasts from the world".
'#Martyr_Moaz'
Arab and Iranian social media users overwhelmingly echo the anger and defiance of the mainstream media.
The Arabic hashtag #IS_burns_Jordanian_pilot, garnered 370,000 mentions within hours, and #we_are_all_Moaz and #Martyr_Moaz gathered 61,000 between them.
The English hashtag #IamMoaz has been mentioned 24,000 times, and #ISIS_are_NOT-Muslims more than 55,000.
There is some online sympathy for the killing, mainly from Twitter users who espouse the Islamic State and some Facebook accounts that support Egypt's banned Muslim Brotherhood.
In general they seek to justify the killing on claims that Lt Kasasbeh killed people in his raids on Islamic State.
Some Twitter users express satisfaction at Jordan's execution of Sajida al-Rishawi, with the Arabic hashtag #the_execution_of _Sajida-al-Rishawi" being used about 3,000 times.
A few Twitter users question the wisdom of executing Islamist prisoners in response, wondering where it will all end.
Images
Images of Lt Kasasbeh being burnt alive in a cage appear in some papers in Egypt, Iraq, Saudi Arabia and Lebanon, but not in any Jordanian papers.
Al-Arabiya and Al-Jazeera satellite TV generally avoided showing graphic images, as did Iranian domestic channels, but Iran's state-run English-language Press TV broadcast parts of the video clearly showing a man engulfed by flames in a cage moments after uniformed and masked men set fire to a fuse.
Iran's Al-Alam Arabic channel showed blurred footage of Islamic State fighters setting the cage alight and a bulldozer dropping boulders on Lt Kasasbeh's burnt body.
BBC Monitoring reports and analyses news from TV, radio, web and print media around the world. You can follow BBC Monitoring on Twitter and Facebook.