Egypt court: Activist Ahmed Douma among 230 sentenced to life in prison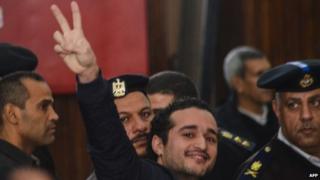 A court in Egypt has sentenced prominent liberal activist Ahmed Douma to life in prison along with 229 other defendants.
Douma played a key role in the 2011 uprising against former President Hosni Mubarak.
The activist was convicted of rioting, inciting violence and attacking security forces.
He was also fined $2.2m (£1.4) for setting fire to a science academy housing rare manuscripts.
Douma reacted to his sentence with an ironic round of applause, the BBC's Orla Guerin reports. In response the judge said: "Are you in Tahrir Square? Don't talk too much or I'll give you three more years."
A life sentence in Egypt is 25 years.
Wednesday's ruling brought the heaviest sentence yet against the secular activists who led the mass protests four years ago.
Douma was a leading figure in the revolution that forced former President Hosni Mubarak to step down. He was a symbol of the revolution and has become a symbol of the repression that followed it, our correspondent says.
The verdicts against Douma and the other defendants can all be appealed against. They were handed down by Jugde Mohammed Nagy Shehata, the same judge who jailed the Al Jazeera journalists and sentenced 183 suspected Islamists to death on Monday.
Along with fellow activists Ahmed Maher and Mohamed Adel, Douma is already serving a three-year prison sentence for staging protests without a permit, a violation of Egypt's stringent new public order law.
In January an Egyptian court overturned the convictions for embezzlement of former President Hosni Mubarak and his two sons and ordered a retrial.
It was the last remaining case keeping Mr Mubarak behind bars. The 86-year-old has been in detention since April 2011.