Baghdad curfew ended by Iraq PM Haider al-Abadi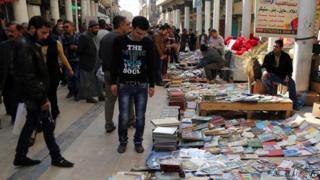 Iraqi Prime Minister Haider al-Abadi has ordered a night-time curfew in place in Baghdad for years to be lifted beginning on Saturday.
The announcement came after Mr Abadi was briefed by security services.
Iraq has long used curfews to try to curb violence, and analysts say the latest move marks a major policy shift.
While Baghdad is still hit by regular suicide bombings, the threat to the capital from Islamic State (IS) militants is viewed to have subsided.
Iraq's army is battling IS militants who have seized large swathes of territory outside of Baghdad.
In the city itself, at least 10 people were killed as a series of explosions rocked the capital on Tuesday.
But Mr Abadi wants life in Iraq to return to normal as far as possible "despite the existence of a state of war," his spokesman Rafid Jaboori said.
The lifting of restrictions is "part of the response to terrorism and the war against it," he added.
Welcome news
The night-time curfew has been in place in the capital since 2004. It has varied in length, but was most recently imposed between midnight and 05:00.
The prime minister, who came to power in September 2014, has also ordered the reopening of several major streets in the city.
The decision was taken "in order to facilitate the movement of citizens," according to a government statement.
The news will be welcomed by many in Baghdad as it will make make life seem a little more normal, says BBC Middle East analyst Sebastian Usher.
A curfew is also reported to have been lifted in Karbala, south of Baghdad, with the possibility of more being lifted in other provinces.
Despite this, a curfew has been newly imposed in the northern city of Kirkuk amid threats of an IS assault.