Yemen al-Qaeda militant al-Nadhari killed by US drone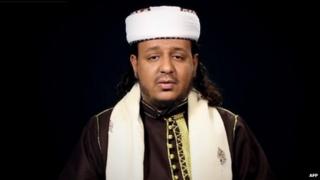 A senior al-Qaeda militant has been killed by a US drone strike in the south of the country, the group has said in a Twitter posting.
Sheikh Harith al-Nadhari was among four people killed in the 31 January strike in Shabwa province. There have been at least three such strikes this year.
Al-Nadhari recently appeared in an al-Qaeda video praising January's attack on French magazine Charlie Hebdo.
He was among the group's few public faces and had threatened more attacks.
"It is better for you to stop your aggression against the Muslims, so perhaps you will live safely. If you refuse but to wage war, then wait for the glad tiding," he was quoted as saying in a 9 January video after the France attacks.
Al-Qaeda in the Arabian Peninsula (AQAP) said on Twitter that al-Nadhari and three other militants were killed in a "crusader American drone strike against their car in the Saeed area of Shabwa province".
The charred bodies of the four were found soon afterwards, tribal sources told the AFP news agency.
The attack, first reported by Yemeni tribal and security officials, has been interpreted by correspondents as a sign of the determination of the US to keep fighting al-Qaeda despite Yemen's political paralysis.
Yemeni President Abdrabbuh Mansour Hadi resigned at the end of last month along with his prime minister in protest at the takeover of the capital Sanaa by Shia Houthi rebels, creating a dangerous political vacuum.
His American counterpart Barack Obama on 25 January rejected any US troop deployments to Yemen but pledged to continue attacking "high value targets" in the country.
---
Al-Qaeda in the Arabian Peninsula
Formed in January 2009 by a merger between al-Qaeda in Saudi Arabia and Yemen
Mostly based in eastern Yemen
Led by Nasser al-Wuhayshi, a Yemeni former aide to Osama bin Laden. Deputy leader Saudi ex-Guantanamo inmate Said al-Shihri reported killed in September 2012
Aims to topple Saudi monarchy and Yemeni government, and establish an Islamic caliphate
Came to prominence with Riyadh bombings in 2003, and 2008 attack on US embassy in Sanaa
Says it was behind an attempt to blow up US passenger jet in December 2009
Yemen proves security nightmare for US
Yemen crisis and an uncertain future
---