Islamic State crisis: UAE sends F-16 squadron to Jordan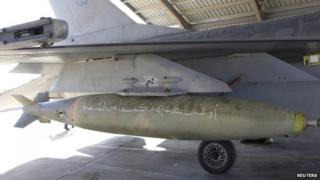 The United Arab Emirates has said it is sending F-16 fighters to Jordan to support the country's airstrikes against Islamic State (IS) militants.
Jordan has pledged retaliation against IS after the group posted a video of a Jordanian pilot being burnt alive.
The UAE stopped taking part in coalition airstrikes against IS after Moaz al-Kasasbeh was seized last year.
It is not clear if the UAE squadron will be carrying out raids on IS from Jordan.
The move "reaffirms the UAE's unwavering and constant solidarity with Jordan", the country's official news agency reported.
A video of Lt Kasasbeh, 26, being burned alive in a cage was posted online by IS earlier this week.
He was captured by the militants in December after his F-16 fighter jet crashed in Syria. The video is believed to have been filmed on 3 January.
'Upping the ante'
After the murder of Lt Kasasbeh, Jordan's Foreign Minister, Nasser Judeh, said the country was "upping the ante" against IS.
The US-led coalition against IS has carried out hundreds of raids against targets in Iraq and Syria since August last year.
Until now, Arab states have only been involved in a fraction of the US-led air campaign against the militants.
The focus of Jordan's air strikes is reported to be Raqqa, the IS stronghold in Syria.
One of those strikes killed a US aid worker, according to IS militants holding her hostage.
But the parents of captured aid worker Kayla Jean Mueller have urged IS to make contact with them, and to treat Ms Mueller as a "guest".
IS released images of a ruined building where it says she died, but no images of the aid worker herself.
White House officials say they have seen no proof she was killed.
Jordan dismissed the reports as propaganda.