How can Jordan aid the fight against Islamic State?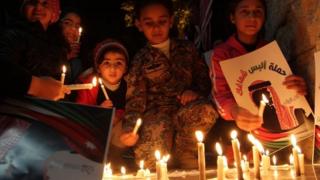 Messages written on Jordanian air-to-surface missiles before they were fired at alleged Islamic State (IS) positions in Raqqa, Syria, summed up the mood of many in the country.
They included "This one is for the enemy of Islam, Omar Shishani", a reference to a Chechen IS commander, and "Our soldiers will be victorious", a Koranic verse.
The air strikes were a reaction by the Jordanian authorities to the immolation by IS of the Jordanian pilot, Flight Lt Moaz al-Kasasbeh, whose F-16 was allegedly shot down near Raqqa in December.
They were preceded by the executions of two operatives from al-Qaeda in Iraq, a precursor to IS. Sajida al-Rishawi and Ziyad Karboli, both Iraqis, had previously been sentenced to death in connection with attacks in the kingdom in 2005 and 2008.
What will the current escalation between IS and the Hashemite regime mean for Jordan?
Strategic dilemmas
There could be domestic and regional ramifications for a country whose ruling regime is "one of the most important US partners in the region," according to former US Defence Secretary Chuck Hagel.
Unlike US monarchic allies in the Gulf, the small kingdom has few natural resources.
Its importance arises from the pivotal roles it has played in struggles for power and armed conflicts in the Middle East in recent decades.
The Hashemite regime is one of only two Arab regimes to have made peace with Israel. And as a result of the brutal war in Syria, Jordan is host to more than 600,000 registered Syrian refugees.
Direct conflict with IS would present a serious security challenge, and as the organisation redraws the maps of Syria and Iraq, Jordan is only a stone's throw away from its fighters.
In fact, IS took control of the Turaibil border crossing between Iraq and Jordan for several hours last June.
De-escalation attempt
Jordan initially tried to de-escalate in the latest crisis. The security establishment aimed for prisoner-swap: Rishawi for Kasasbeh.
Unlike the pilot, Rishawi had no military value; just a symbolic one that could enhance the image of IS leadership to its supporters.
To do the swap, Abu Muhammad al-Maqdisi, a famous jihadist ideologue whose writings helped inspire the Jordanian founder of the al-Qaeda in Iraq, Abu Musab al-Zarqawi, was asked to mediate.
Maqdisi, told a Jordanian TV channel how he had contacted mujahideen (holy fighters) from across the Middle East to ask for contacts.
He said he had got in touch with IS spokesman Abu Muhammad Adnani, and sent messages to IS leader Abu Bakr al-Baghdadi and Sheikh Turki bin Ali, a Bahraini theologian who supports IS.
The interaction failed, however, for numerous reasons.
Maqdisi has been quite critical of IS, and that, among other factors, probably undermined his credibility with them.
After the failure of negotiations, he did not pull any punches.
"The one who interacted with me have been lying," he said.
"They killed the pilot and he was still negotiating with me and swearing that he is alive - you cannot belong to jihad and be a liar."
He went on to attack Islamic State's tactics of slaughtering and burning victims.
Domestic powder keg
What else can Jordan do? Probably, not much more than it is already doing.
The air strikes will never be decisive because the Jordanian contribution compared with that of the US is small, despite the recent claim that the latest air strikes destroyed 20% of IS capabilities and killed 7,000 members in three days.
If that is accurate, IS will be 100% destroyed in 12 more days - an achievement that the US and all of its powerful and highly-competent Western allies could not do in 10 years.
Tough words in the statements of the armed forces and the propaganda campaign featuring King Abdullah frowning in combat uniform while disseminating information that "he will lead air strikes" are popular with the public - but probably won't do much damage to IS.
Ground attacks by Jordanian special forces in Syria cannot be ruled out. But there are doubts too about whether they would be effective.
The realists in the General Intelligence Directorate, Jordan's powerful security agency, understand the army's limitations.
Jordan also has an interest in containing the conflicts in Syria and Iraq rather than expanding them.
More conflict would mean more refugees entering the country, further internal socio-political polarisation, and potential escalation of security threats.
Intelligence role
Intensive intelligence co-operation is one possible way forward.
Jordanian collaboration with the US assisted in the elimination of Zarqawi in Iraq - though the Iraqi government insists identification of his location was due to intelligence provide by an Iraqi citizen.
But any Jordanian escalation will be sensitive to public opinion and social cohesion.
A poll from last September, a month after the air strikes began, suggested that only 62% of Jordanians considered IS a terrorist group.
Only 14% approved of a ground invasion to undermine IS in another poll conducted in November.
These numbers would undoubtedly be much higher were the polls to be conducted today.
But public opinion can change quickly; especially when the "rally round the flag" effect dissipates and bodies of Jordanian soldiers start returning from Syria or Iraq.
Foreign fighters
Jordan is believed to have between 1,400 and 2,200 citizens fighting in Syria and Iraq, at least 500 of whom are fighting under IS units.
To make things worse, IS published the names and addresses of some 90 Jordanian pilots, and called for them to be killed for their alleged involvement in the air raids in Syria.
Islamic State's "Security Apparatus" - some of whose members are former Iraqi intelligence officers - is aiming to ignite an internal front within Jordan, where the situation is relatively volatile due to socio-political polarisation, economic deprivation, and human rights abuses.
The situation in Jordan is precarious and a focus on the domestic front is essential.
Classic counter-terrorism and security measures are being, and should be, employed.
Jordan had has some successes on that front, both currently and historically.
But a wider public discussion on how to deal with IS support in the kingdom, even though it is a tiny minority, is also needed.
The same applies to the question of how to deal with the returnees from Syria and Iraq.
De-polarising the home front is essential, and measures such as releasing prisoners of conscience, and suspending the crackdown on independent media can help.
But labelling speech and any kind of dissent as "terrorism" does not help Jordan in its war against IS.
Instead, it creates an environment for pro-IS sentiment to grow.
Dr Omar Ashour is a senior lecturer in security studies at the University of Exeter. He is the author of The De-Radicalization of Jihadists: Transforming Armed Islamist Movements and From Bad Cop to Good Cop? The Challenges of Security Sector Reform in Egypt. He can be reached at @DrOmarAshour.