Al-Jazeera journalists given Egypt retrial date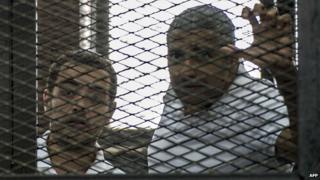 The retrial of two al-Jazeera journalists detained in Egypt will begin on 12 February, judicial sources say.
Mohamed Fahmy and Baher Mohamed were sentenced to seven and 10 years respectively last June. A court ordered a retrial last month.
They were arrested in 2013 along with Australian colleague Peter Greste after being accused of collaborating with the banned Muslim Brotherhood.
Mr Greste was freed a week ago.
A decree issued by President Abdel Fatah al-Sisi last November allows the deportation of foreign prisoners. Mr Fahmy, who held dual Canadian and Egyptian citizenship, renounced his Egyptian nationality this week in an attempt to secure his release.
Egyptian and Canadian officials had indicated that he would be deported to Canada.
Mr Mohamed is an Egyptian who holds no dual nationality.
His wife said that the three journalists were tried together and therefore should have been released together, and that she was astonished that the retrial should go ahead with Mr Greste already free.
The conviction of the journalists, on charges that included spreading lies to help a terrorist organisation, caused an international outcry. All three denied the charges against them and said their trial was a sham.
Mr Fahmy's high-profile lawyer, Amal Clooney, has written to Egypt's president, saying she plans to visit Cairo to discuss the case.
That would bring fresh headlines and a headache for the authorities who would like the Al Jazeera story to fade away, the BBC's Orla Guerin reports from Cairo.
According to campaign group Reporters Without Borders, there are currently 165 journalists imprisoned around the world, including 15 in Egypt.
---
Timeline: Journalists' detention
29 December 2013: Peter Greste and Mohamed Fahmy arrested in police raid on Cairo's Marriott Hotel. Baher Mohamed later arrested at home
29 January 2014: 20 people including the three journalists referred to trial, charged with spreading false news, belonging to a terrorist organisation and operating without a permit
22 February: First court appearance of the three journalists
23 June: Defendants sentenced to seven years, with Baher Mohamed receiving an additional three years
12 November: President Sisi signs decree allowing repatriation of foreign prisoners
1 January 2015: Highest court orders retrial, but the three journalists not allowed bail
1 February 2015: Peter Greste freed and deported, his two colleagues remain behind bars
How journalists were jailed in Egypt
---