Egypt football: Fans tell of stadium crush horror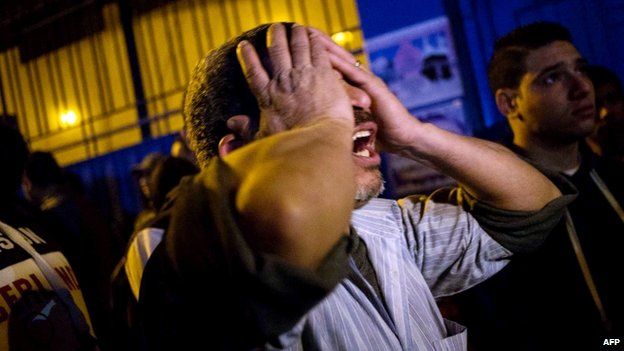 "We were behaving just like normal. Everyone was singing, we were happy. Then the tear gas began and people started to run," a young football fan recalled.
He was talking to BBC Arabic outside the Air Defence Stadium in Cairo after witnessing one of Egypt's worst sporting tragedies in history.
At least 22 people died and many more were injured on Sunday as violence broke out between police and supporters of Cairo's popular Zamalek football club, who call themselves the Ultras White Knights.
The match, against rival team ENPPI, was the second of Egypt's football season and tickets had been limited in number for security.
This was the first season that fans had been allowed to attend matches since similar clashes broke out in a Port Said stadium in 2012, killing 74 people.
The government says that protesters tried to force their way into the stadium and subsequently died of asphyxiation. "We had to prevent them from damaging public property," the interior ministry said in a statement.
But eyewitnesses from among the club's supporters tell a different story.
"We were lighting up flares just like normal," a Zamalek fan told BBC Arabic in the hours after the match.
"The police started telling us: 'go back'. So we turned and went back and suddenly there was tear gas everywhere."
"A steel door fell down and people were stuck underneath. The military were trampling on people and they were dying! They were dying!" he added.
Another fan tells a similar story: "They asked us to move out of the way and we did. We turned our back to the police and that's when the tear gas started. There must have been at least 20 canisters."
The fans say that thousands of people were forced to pass through a metal cage-like corridor to get into the stadium. As the numbers increased, people were crushed against the metal bars.
"I heard people shouting 'open up, open up'," Mohamed Abbas told followers on Twitter.
"People were being suffocated by the crowds in this inhuman corridor. They were trying to get through. Suddenly the military started firing tear gas as tanks blocked off the exits."
With the tear gas came chaos, panic and confusion, as the football fans tried desperately to escape from the area.
"There were 5,000 fans there," says Samar Yehya. "Suddenly the tear gas started and people started running and trampling on each other. Some of them died."
When the ambulances arrived an hour later, the fans say, the clashes were still ongoing.
"The police carried on running after us and shooting at us with tear gas and bird shot around the stadium in the desert," claims a White Knights leader using the online alias Yasser Miracle.
The interior ministry said that the fans were trying to force their way into the stadium without tickets, an assertion the fans deny.
In response, they have taken to social media posting pictures of their tickets.
"We all had tickets," says Mohamed Abbas, "me, my brothers and my friends. But nobody even asked about them".
"It's not right that people should die for the sake of a ticket worth 20 Egyptian pounds [$2.62; £1.72]," writes Samar Yehya on Twitter.
"Your life is worth far less than that," she adds sarcastically.
Funerals of Zamalek fans who died in the clashes took place on Monday morning in Cairo, but the disputes over the facts leading to their deaths are unlikely to be laid to rest so swiftly.
Egyptian football supporters have taken to social media with the hashtag #zamalekmartyrs to vent their fury at what they see as yet another example of police aggression against civilians in the country.
"Suddenly how cheap human blood became," says one fan. "Their dream was to support their club but the police killed them," says another.
Mirna Al Hebawi, a supporter of Al Ahly club whose fans were the victims of the 2012 Port Said clashes, agrees that the police are to blame.
"It is not about [Egyptian President] Sisi, not about the insane Muslim Brotherhood, it is about a police who kills freely with cold hands."