Yemen crisis: Pro-Hadi militiamen seize Aden buildings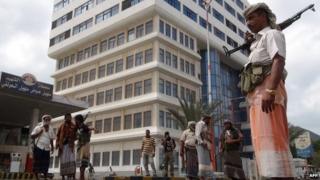 Clashes have erupted in Yemen's second city of Aden between militiamen loyal to President Abdrabbuh Mansour Hadi and forces allied to Houthi rebels.
At least three people were killed after members of the Popular Resistance Committees attacked pro-rebel police guarding several government buildings.
The PRC now control an intelligence headquarters and television building.
Earlier, the UN Security Council demanded the Houthis relinquish their control of the central government.
A unanimous resolution called upon the Zaidi Shia movement to take part in UN-brokered negotiations aimed at reaching a political settlement, and also sought the release from house arrest of Yemen's president, prime minister and other cabinet members.
It warned of taking "further steps" if the rebels did not comply.
'Coup'
The resolution comes after the rebels announced on 6 February that they had dissolved parliament and planned to form a "presidential council" to rule for a transitional period of up to two years.
On Sunday, the governors of Yemen's three southern provinces - Aden, Lahij and Mahra - and local political leaders formed a group to oppose what they denounced as a Houthi "coup".
They demanded the reinstatement of Mr Hadi and reaffirmed their support for Yemen becoming a federation of six regions, as agreed last year at the National Dialogue Conference.
Overnight, members of the PRC attacked police special forces guarding a number of government facilities in the city of Aden.
After five hours of clashes, the militiamen had gained control of Aden's television building, its main power station, the intelligence headquarters and the free trade zone's offices, sources told the Reuters news agency.
PRC leader Hussein al-Wuhayshi accused the police special forces of co-operating with the rebels.
"They are facilitating the entry of Houthi fighters into Aden to seize the city," he told the AFP news agency.
Mr Hadi appointed Gen Abdul Razzaq al-Merwani, a Shia who is seen as close to the Houthis, as commander of the force on 12 January. Eight days later, the rebels stormed the presidential palace complex and surrounded the president's private home.
The Houthis have taken over predominantly Sunni parts of central and western Yemen in recent months, sparking battles with tribesmen and al-Qaeda in the Arabian Peninsula (AQAP), after advancing from their stronghold in the far north and entering Sanaa in September.
The crisis has threatened to derail the UN-backed transition to democracy launched after mass protests forced long time President Ali Abdullah Saleh to hand over power to Mr Hadi in 2011.