Egypt seeks UN mandate for Libya Islamic State intervention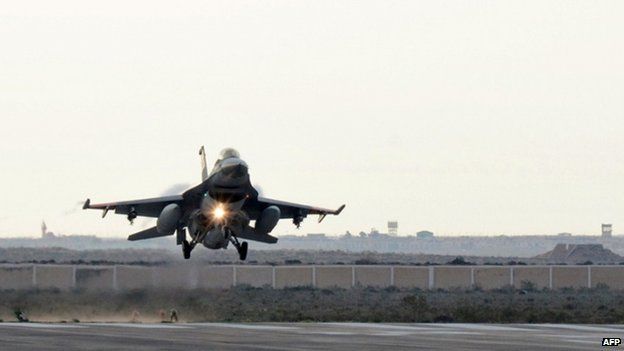 Egypt's President Abdel Fattah al-Sisi has called for a United Nations resolution allowing international forces to intervene in Libya.
There was no other choice, he told French radio. "We will not allow them to cut off the heads of our children."
Egyptian jets bombed IS targets on Monday in response to a militant video of the apparent beheadings of 21 Egyptian Christians.
Rival militias have been battling for control in Libya since 2011.
The country has two rival governments - one based in Tripoli, the other in Tobruk.
Mr Sisi called for weapons to be made available to Libya's internationally recognised government, which fled to Tobruk after rival militias seized power in the capital.
In another development, the UN Security Council is to hold an emergency session on Wednesday to discuss the crisis.
Egypt's Foreign Minister Sameh Shoukry will also hold bilateral meetings in New York with Security Council members and representatives of Arab states, according to AFP news agency.
Libya's rival power bases
President Sisi told Europe 1 radio that "we abandoned the Libyan people as prisoners to extremist militias."
He was referring to the aftermath of the 2011 war in which Libyan leader Muammar Gaddafi was toppled with the help of an international coalition - an intervention he described as "an unfinished mission".
Asked if he would order Egypt's air force to strike again, he said: "We need to do it again, all of us together."
Egypt signed a €5.2bn (£3.8bn) defence deal with France on Monday which includes the purchase of 24 advanced fighter jets.
Egyptian state TV said Monday's air strikes had targeted Islamic State camps, training sites and weapon storage areas near the city of Derna.
Military sources said the strikes would continue but there was no need for ground troops at present.
The attacks came hours after a video emerged on Sunday showing militants forcing a group of men to the ground and decapitating them.
The kidnapped Egyptian workers, all Coptic Christians, were seized in separate incidents in December and January from the coastal town of Sirte in eastern Libya, which is under the control of Islamist groups.
Media analysis from BBC Monitoring
Most Egyptian daily newspapers have come out strongly in support of their government's response to the beheading of Coptic Christians, but some Libyan sources question its wisdom.
"Revenge at dawn," says privately-owned Al-Misri al-Yawm while state-run Al-Ahram says the strikes are in response to "IS barbarism".
Its editorial says the "swift response" had helped restore confidence in the country's president, while Jamal Fahmi in the Al-Tahrir newspaper reserves his praise for the army for "the punishment of the herd of monsters".
But writing in Al-Shuruq, Fahmi Huwaydi says while the strikes may be a "justified" response that will hurt IS, it is less clear if they are a "decisive solution".
Libyan pro-Tripoli TV showed pictures of dead children it said were killed in the strikes, saying "the streets of Derna are covered in blood".
The strikes are "partly legitimate and partly a crime against humanity" writes Muhammad Ali al-Mabruk in the London-based Ayn Libya. "The Egyptian army is confused - it kills criminals but also innocent people," he laments.
The BBC's Jim Muir says anger has been felt throughout Egypt by Muslims and Christians alike, and the killings are being seen as an attack on national dignity.
Egypt is already fighting Islamist insurgents based in the Sinai peninsula who have declared their allegiance to Islamic State.
Libya is home to a large community of both Muslim and Coptic Egyptians, with most working in the construction sector.