Egypt's ousted President Morsi faces military tribunal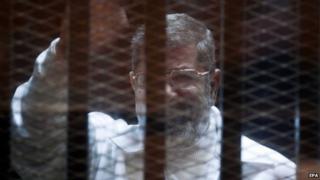 Ousted Egyptian President Mohammed Morsi and 198 others are to stand trial at a military court for incitement to murder, officials say.
The Muslim Brotherhood's spiritual leader, Mohammed Badie, is also among those charged in connection with deadly unrest in Suez in August 2013.
It was triggered by the dispersal of sit-ins by Mr Morsi's supporters in Cairo, in which hundreds were killed.
The military tribunal is reportedly scheduled to begin on 23 February.
Mr Morsi, who was overthrown by the military in July 2013 after mass protests against his rule, is already facing four trials on other charges.
They include conspiring with foreign terrorist groups, inciting the murder of his opponents when he was in power, and orchestrating a prison break during the 2011 uprising that toppled his predecessor, Hosni Mubarak.
Verdicts in two of the trials, which could result in a death sentence, are expected in April and May.
Mr Badie has been sentenced to death in three cases and life in prison in a fourth. A fifth conviction was overturned on appeal last week.
Soldiers attacked
Mr Morsi was being detained by the military during the unrest in Suez on 14 and 15 August, during which 31 people were killed, soldiers were attacked and military vehicles torched. However, military prosecutors allege that he was still able to incite the violence.
More than 11,000 civilians have been tried by military courts since the 2011 uprising. They are known for denying defendants rights they are accorded by civilian courts, delivering swift and harsh verdicts, and giving limited scope to appeal.
Egypt's new constitution, approved in January 2014, specifies a range of crimes for which civilians can be tried in military courts, including assaults on military personnel or equipment, or crimes that involve military factories, funds, secrets or documents.
In October, President Abdul Fattah al-Sisi, the former military chief who ousted Mr Morsi, issued a decree that extended the reach of the military courts by placing all "public and vital facilities" under military jurisdiction.