Yemen rival parties agree on transitional council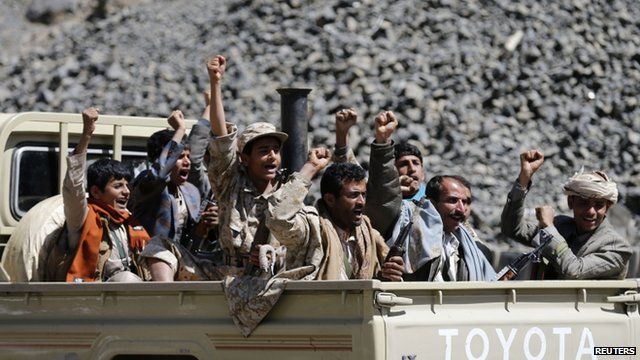 Rival parties in Yemen are to form a "people's transitional council" to help govern the country and solve the deepening political crisis.
UN mediator Jamal Benomar announced the preliminary accord on Thursday and hailed it as "an important step".
He said that further dialogue was needed on the arrangements for government ministries.
President Abdrabbuh Mansour Hadi resigned in January after a takeover by the Shia militia group, the Houthis.
As part of the UN-brokered interim deal, Yemen's house of representatives, made up overwhelmingly of MPs from the former ruling party, will stay in place.
Instead of the traditional upper house a new transitional council will consist of traditionally unrepresented sectors among Yemen's formerly independent South, women and young people.
Together the two bodies will make legislation guiding Yemen's transition.
Mr Benomar said: "This progress is not an agreement, but is an important breakthrough that paves the way towards a comprehensive agreement."
Houthi rebels seized the capital Sanaa in September, before capturing the presidential palace and placing Mr Hadi under house arrest. He then quit his presidential post, saying he could not continue under such pressure.
The Houthis dissolved parliament and installed a five-member "presidential council" on 6 February.
This sparked security concerns that saw several Arab and Western states close their embassies and remove diplomats.
Since overrunning Sanaa, the Houthis have expanded their control to coastal areas and regions south of the capital.
Their takeover was denounced as a coup by rival political factions and prompted mass protests, mainly from the country's Sunni majority.
The Houthis have also faced fierce resistance from Sunni tribes and al-Qaeda militants.