Iran nuclear talks: Some progress made, says Zarif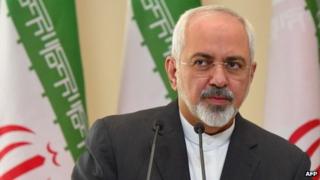 Iranian Foreign Minister Mohammad Javad Zarif says talks to reach a deal on Iran's nuclear programme will resume in Geneva next week after "some progress in certain aspects".
US officials also spoke of "some progress" after talks between Mr Zarif and US Secretary of State John Kerry.
But both sides stated much remained to be done.
Iran and six international powers are aiming to reach a framework agreement in March and a final deal by 30 June.
Talks between Tehran and Washington were "useful, constructive and serious," Mr Zarif said after two days of meetings with his US counterpart.
But he warned it was still "a long way to reach a final agreement."
The talks were part of the latest three-day round of Iran's negotiations with the US, Russia, China, Britain, France and Germany.
The international powers are trying to negotiate an agreement which addresses concerns that Iran is seeking nuclear weapons technology, something Tehran denies.
Negotiators are hoping to meet a self-imposed deadline of 31 March for a framework agreement with more details to be worked out by the end of June.
Despite the deadline, US officials said they would not "rush to an agreement that does not fulfil the objectives given to them by President Obama."
Two weeks ago, Iran's supreme leader Ayatollah Ali Khamenei had given out a similar message, saying he would rather see no deal than one that undercuts Iranian interests.
The talks are due to resume in Geneva next Monday at political director level.