Three Bahrain Shia sentenced to death over bombing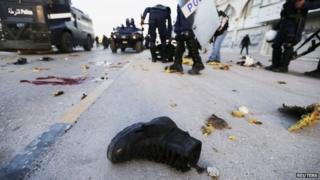 A court in Bahrain has sentenced three Shia Muslims to death a bomb attack last year that killed three policemen, officials and lawyers say.
Another seven people were jailed for life for the attack in a village near the capital, Manama, on 3 March.
In addition, eight of the defendants will now lose their Bahraini citizenship.
It was one of the deadliest attacks since pro-democracy protests erupted in the Sunni-ruled Gulf kingdom in 2011.
The verdicts were issued by Bahrain's Higher Criminal Court on Thursday.
In a statement, the court also ordered the defendants to pay damages "associated with the incident" in the village of Daih.
"The court heard that the defendants had planted remote detonating IEDs [improvised explosive devices] on the public highway and lured policemen to the scene after staging riots and carrying out acts of vandalism.
"Once security forces arrived at the scene the defendants detonated an IED, which resulted in the deaths of the policemen and injured 13 others," the statement said.
Bahrain's opposition and human rights activists say that dozens of civilians have been killed in the Shia-majority kingdom since pro-democracy protests began four years ago. The government says the death toll is lower.