Sweden sentences Syrian rebel to five years for war crime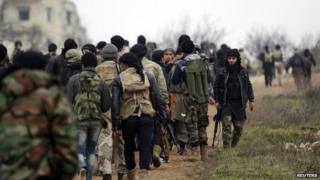 A former Syrian rebel fighter has been given five years in prison in Sweden for a "torture-like" assault in Syria.
Mouhannad Droubi, 28, was convicted of attacking an enemy who is defenceless, a war crime in Sweden.
Droubi was granted residency in Sweden in 2013 but was arrested after a video of the assault was passed to police.
He fought with the Free Syrian Army (FSA), which rebelled against the Syrian regime of Bashar al-Assad in 2011.
The video of the assault showed Droubi and others abusing a prisoner who was bound.
Already injured
The victim was captured by the FSA while fighting with government forces.
According to court reports, he was already injured when the assault took place and was tied up while it was carried out.
Police were alerted to the video by a friend of Droubi who had come across it in an email after he left his account open at her house, according to the Swedish newspaper Expressen.
He had previously shared the video on Facebook.
Swedish law allows its courts to prosecute people for war crimes even if they are committed abroad. Prosecutor Henrik Soderman said Droubi's case was the first of its kind related to the conflict in Syria.
Droubi initially denied being in the video but later admitted the crime to police. He claimed in court he had been forced carry out the assault, according to Expressen newspaper.
Prosecutors pushed for Droubi to be deported from Sweden but the court decided on a custodial sentence instead, Radio Sweden reports.
Swedish lawmakers are currently debating whether to make it a criminal offence for Swedish residents to take part in armed conflicts abroad.
Last week, the UN revealed it was considering making public around 200 names of individuals and groups suspected of committing war crimes in Syria.