US tries to reassure Gulf over nuclear talks with Iran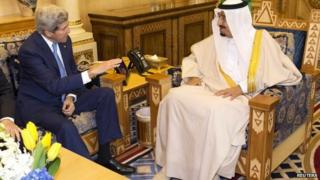 The US will continue to keep an eye on "destabilising" acts by Iran, despite moves towards a nuclear deal, Secretary of State John Kerry has said.
Mr Kerry made the comments on a visit to the Saudi capital Riyadh, where he sought to ease concerns among Gulf nations about the talks.
Gulf states are worried about Iran's influence in the region, and fear a deal would ease pressure on Tehran.
A framework agreement with Iran is meant to be in place by 31 March.
Like Israel, some Gulf states fear Iran is using its nuclear programme to develop weapons. Iran's backing of Shia militias in Yemen, Syria and Iraq also causes concern.
But Mr Kerry said a nuclear agreement would not be part of a "grand bargain" with Iran.
"Even as we engage in these discussions with Iran around this programme, we will not take our eye off Iran's destabilising actions in places like Syria, Lebanon, Iraq and the Arabian peninsula, Yemen particularly", Mr Kerry said.
Sunni-controlled Saudi Arabia and Shia-majority Iran have often found themselves backing rival factions in some of the region's bloody conflicts.
Speaking alongside Mr Kerry, Saudi Foreign Minister Prince Saud al-Faisal said Saudi Arabia was concerned by Iran's involvement in the operation by Iraqi forces and Shia militias to retake the city of Tikrit from Islamic State.
"The situation in Tikrit is a prime example of what we are worried about. Iran is taking over the country," he said.
Mr Kerry's visit comes after Israeli Prime Minister Benjamin Netanyahu strongly warned against a deal with Iran in a speech before the US Congress on Tuesday.
Current negotiations, Mr Netanyahu said, would pave the way towards nuclear weapons for Iran.
US President Barack Obama said the speech, which Mr Netanyahu gave after being invited by Republican leaders without White House consultation, contained nothing new and offered "no viable alternative".
Together with the other permanent members of the UN Security Council and Germany, the US is trying to negotiate a deal with Tehran that offers the lifting of sanctions in return for Iran curbing its nuclear ambitions.
Iran insists its nuclear programme is for energy purposes only and says it is not trying to develop weapons-grade uranium.
The two sides are working to a self-imposed deadline for a framework agreement by the end of March, with more details to be discussed before a final agreement by the end of June.